Based On Ratings By Travel Butlers Clients
These awards are based on the ratings that clients of Travel Butlers give to the properties after their stay.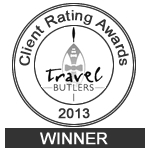 The overall standard of the accommodation and service offered by all the places we book (including those not lucky enough to win an award on this occasion) is reflected in the average score for all safari lodges - out of hundreds of ratings we received, there were only a handful of scores that were under 4.0, and the average score for all safari lodges was 4.7 out of a maximum of 5.0.
We have not given awards to any places that only have a handful of votes as this would skew the results, and we have also limited ourselves to just 10 awards for 5* lodges and 10 for 3*/4* lodges.
Our heartfelt thanks and congratulations go to all of the award winners as they have all given outstanding service and safari experiences to our guests over the recent months and years.