Selinda
Selinda Camp rests on the banks of the eastern Selinda Spillway in the 130,000 hectare Selinda Concession in northern Botswana, one of Botswana's prime wildlife viewing locations and most beautiful settings. The Selinda Concession is fortunate in that it is the only reserve that straddles both the Okavango Delta in the west and the Linyanti waterways and savannahs in the east.
Open vehicle safari drives, guided bush walks, boating, tracking, birding and other bespoke wildlife viewing activities are designed to place you in front of the best wildlife the area has to offer for a unique one on one life-changing experience, from leopards to elephants and hippos and aim to tick off as many as the 200 or more bird species in the area.
The camp represents the meeting place of 3 cultures - European, Mokololo, and Bayei. Spears, shields and an African version of Robinson Crusoe is the enduring theme throughout, and its architectural design elements center around Water, Air, Earth, and Fire, all of which ground the design.
The design pays homage first and foremost to Water, with splashes of blue and crystal-clear swimming pools offering views over the equally immaculate Selinda Spillway to ease your arrival, usually by boat. The billowing silks, which adorn the ceilings of the lounge area, are a tribute to Air and the afternoon breezes that ripple the endless sea of nearby grasses. Earth is represented by the home-grown meals prepared in the kitchens, fresh from the earth, and the bright flames of the evening Fire complete the ethos of being in harmony with nature's natural elements.
The camp offers 3 expansive en-suite guest suites, each covered under thatch with a large veranda and private swimming pool. Each guest suite is unique, and has its own colour palette and theme.
In addition to the 3 suites, the Selinda Suite consists of a 2 bedroom tented villa, offering the ultimate in privacy, service and experience, as guests enjoy their own private vehicle, safari guide, chef, manager/butler and separate entrance to their residence.
Show Rates in
Our standard rates for a Tent
Dates
Price
Basis
Type
Nights

1 November 2023

to

19 December 2023

GBP 1,828

USD 2,248

ZAR 41,122

EUR 2,102

per person sharing
Contracted FIT Rate
1 night

1 November 2023

to

19 December 2023

GBP 1,828

USD 2,248

ZAR 41,122

EUR 2,102

per person sharing
Contracted FIT Rate
2 to 3 nights

1 November 2023

to

19 December 2023

GBP 1,828

USD 2,248

ZAR 41,122

EUR 2,102

per person sharing
Contracted FIT Rate - Pay 3 Stay 4
4+ nights

20 December 2023

to

10 January 2024

GBP 2,701

USD 3,322

ZAR 60,768

EUR 3,106

per person sharing
Contracted FIT Rate
1 night

20 December 2023

to

10 January 2024

GBP 2,701

USD 3,322

ZAR 60,768

EUR 3,106

per person sharing
Contracted FIT Rate
2+ nights
Prices are on a per person sharing basis (pps).
Special offers for longer stays or when booked as part of a longer itinerary may apply - details on request.
---
Rates Include
All meals; alcoholic and non-alcoholic beverages; scheduled game viewing activities; the Conservation Levy; return airstrip road transfers; complimentary use of a pair of Swarovski HD binoculars; and a laundry service are included.
---
Children Policy
Children aged 8 years and older are welcome. Rates available on request. Children aged 6 years and older are welcome when staying at the Selinda Suite. Children must be aged 12 years and older to participate in waqlking safaris.
---
Special Offers
Free Night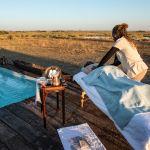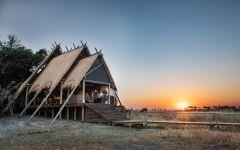 Code: SAF-5861
---
Stay 4 nights for the price of 3 at Selinda Camp in Selinda. Fully Inclusive basis.
Valid: 1 November 2023 - 19 December 2023.
Book Before: 15 December 2023.
Example price for 2 people staying 4 nights from:
Example price based on staying in a Tent between 1 November 2023 and 19 December 2023.
Reload Map
Selinda Camp Location.
General Information For Guests
Each tent has an en-suite bathroom with a deep stone tub, indoor shower, flushing WC, dressing area and double basins. The bathroom is connected to he main tent by double sliding wood doors. There is hot and cold running water and bathroom amenities and a hair dryer are provided.
All tents have fly netting on the tent sides and over the beds as well as an ultrasound repellent device. There is also an overhead fan, a small sitting ara and desk, a private verandah, a room safe, tea/coffee making facilities, and a pair of Swarovski 8x42 binoculars in every tent for guests to use whilst on safari. There are also yoga mats, weights and band in each tent.
Guest facilities include 2 lounges, a large dining area, a central pool area, climate controlled walk-in wine cellar, an art gallery and curio shop, and a fire pit and seating.
In-room massages are available (additional cost).
The camp is run by a combination of solar and generator power. There are universal plug points in each tent.
Wi-Fi is available in all tents. There is no mobile phone signal.
Selinda Camp offers game drives throughout the day focusing primarily on early morning and afternoon and early evening game drives but full day drives are common if guests prefer. The camp has 4 custom built Land Cruisers specially designed for the conditions and photography (fold-down screens, raised roofs, photographic bars, multi-plug invertors).
Selinda is primarily a land-based camp, however, boating is possible on the Spillway in one of the campandrsquo;s 2 powerboats, water level dependent, and rod/reel fishing from March to December each year is possible. It is possible to arrange morning walks too. In the midday, during siesta, guests can take refuge in the hide overlooking the Spillway and do some birding.
Sleep outs under a mosquito net on a raised platform in the African wild are available for those who want an extra adventure. This must be booked in advance, and is subject to extra cost and availability.
Popular Alternatives to Selinda Camp
These are the top properties booked by people who considered staying at Selinda Camp, but for one reason or another booked a different property. It may have been that Selinda Camp was not available on the nights they wanted to stay, or they decided that somewhere else was better suited to their budget or itinerary.
If you're not sure which place might be best for your own trip then either give us a call or get in touch via the website, and we'd be delighted to run through the options with you.