Regular readers of our blog will know that we are huge fans of South Africa as a holiday destination, and we believe it offers amazing variety and great value for money.  From the bustling heart of cosmopolitan Cape Town (regularly voted one of the most beautiful and characterful cities in the world)  through to the amazing wildlife of the vast Kruger Park area, there is so much to see and do, with safaris, accommodation and transport options to meet all tastes and budgets.
To give you an example of the range of properties available, in the Kruger area there are lodges such as Shindzela that offer a safari including game drives, accommodation and all meals for little over £100 per person per night, however if you have the budget and nothing but the best will do, the beautiful and recently refurbished Lion Sands Ivory Lodge will set you back over £1000 per person per night. Incidentally, we have stayed at both and this they are both great, although  it is unlikely that they will appeal to the same potential guests!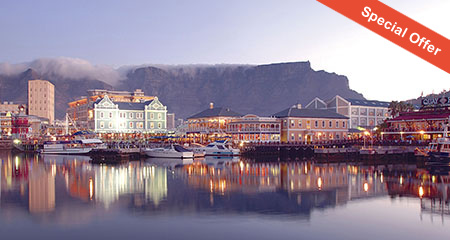 To make this wonderful and diverse country even more appealing, Travel Butlers is running a special offer with deposits starting from only £100 per person on new bookings for accommodation and road transport in South Africa.
This offer will automatically be applied to qualifying bookings, and you can get some inspiration for your own trip on our South Africa holiday pages.
The offer is valid for new bookings confirmed before 28 February 2017, and the balance will be due 60 days before travel as per our usual terms and conditions.
The £100 deposit per person (or equivalent amount in USD, EUR or ZAR) will secure your safari lodge, hotel bookings and road transport in South Africa. There will be a few exceptions for larger group bookings and particular properties that require a larger deposit, and if you would like to book international or other scheduled flights with us, we'll need to confirm the prices and payment terms for these at the time of booking as these are set by the airlines
Comments Off

on 2017 South Africa Special Offer – Deposits from only £100 per person