Lion Sands Ivory Lodge
Sabi Sand Game Reserve
Lion Sands Ivory Lodge is situated within the privately owned Lion Sands Private Game Reserve,which forms part of the southern portion of the 65,000 hectare Sabi Sand Game Reserve, an area well known for its spectacular game viewing. The reserve is built on the banks of the Sabie River, offering breathtaking views over the river where game viewing can be done from the luxury of your private suite.
Morning and afternoon game drives, in open Land Rovers with an experienced ranger and keen-sighted tracker, takes guests out into the bush to discover the magic of being on safari.
The timeless design incorporates steel, wood, thatch, glass, water and sand, and the natural materials enhance the surrounding bush environment. A sophisticated mid-century architectural contemporary theme defines the interiors, with bold furniture and edgy décor, ambient lighting, inferences of tribal design and highly textured finishes - all of which combine to make Lion Sands Ivory Lodge an utterly sensory experience.
The 8 ultra luxurious suites at Lion Sands Ivory Lodge all have en-suite bathrooms and an outdoor shower in an indigenous garden, a private lounge area with a fireplace, and a private pool and expansive viewing deck as well as a covered patio.
The Double Suite Fish Eagle Villa has its own private gym and spa, as well as a private star jetty and fire deck, and comes with its own Land Rover for a truly exclusive game drive experience.
Add To Wishlist
Enquire Now
Show Rates in
Our standard rates for a Suite
Dates
Price
Basis
Rate Name
Nights
11 January 2017 to 30 November 2017
GBP £ 1,292 US$ 1,615 ZAR 20,995 EUR 1,512
pps
Standard Rate
1+ nights
1 December 2017 to 17 December 2017
GBP £ 1,098 US$ 1,373 ZAR 17,845 EUR 1,285
pps
Standard Rate
1+ nights
18 December 2017 to 3 January 2018
GBP £ 1,486 US$ 1,857 ZAR 24,145 EUR 1,738
pps
Standard Rate
3+ nights
4 January 2018 to 10 January 2018
GBP £ 1,292 US$ 1,615 ZAR 20,995 EUR 1,512
pps
Standard Rate
1+ nights
Prices are on a per person sharing basis (pps).
Special offers for longer stays or when booked as part of a longer itinerary may apply - details on request.
---
3 meals per day; tea/coffee; minibar in room; soft drinks, local brand beers, spirits and house wines; 2 shared game drives daily; game drive refreshments/snacks; a laundry service; Skukuza airport transfers and the Kruger National Park fee; the Guest Conservation Contribution (from 11 January 2017); and the Sabi Sand entrance fees are included. PLEASE NOTE: Self-drive visitors must pay a R250 per vehicle entrance fee - subject to change - payable at the entrance gate of the reserve.
Children aged 10 years and older are welcome. Rates available on request. Children under 10 can only be accommodated IF the entire lodge is block-booked by the same group or family - rates available on request.
All of the holidays we prepare are tailor-made, but this might give you an idea of how Lion Sands Ivory Lodge can be included in you own dream holiday.
Suggested Itineraries
Pure Indulgence
If you're looking to really experience the very best of the best, this itinerary will fit the bill. At every step of the way, your accommodation will be luxurious, and the service and hospitality exceptional. Starting with a safari in Sabi Sands, you'll stay in a stunning suite with your own private plunge pool and wooden viewing deck. And you end your trip in Cape Town at the ever-popular V&A Waterfront, in a 5* hotel which has Table Mountain as its backdrop, a working harbour to one side and a multi-millionaire yacht basin on the other.
12 day itinerary including Sabi Sand Game Reserve, Cape Town, The Cape Winelands, The Garden Route and Port Elizabeth.
Prices from pp*
Add To Wishlist
Enquire Now
*Prices are per person and are based on today's exchange rates. Exchange rates are subject to change and are updated daily.
Prices exclude international flights - ask us if you would like to include these.
Guest Rating: 5.0 / 5.0 based on 5 ratings
This was a close to perfect safari experience. Both Lion Sands Ivory Lodge and the game drives were perfectly organised and the personnel really did their best to make it work. Also the timing was ideal since the weather was good and the vegetation was still low, so that the animals could be easily seen.
L NEVALAINEN
Lion Sands Ivory Lodge - Fantastic service, excellent staff and an amazing safari. Definately worth it.
D GOODE
General Information For Guests
Activities that can be arranged at an additional cost include private Land Rover hire (exclusivity, specialist photography, bird watching), clay pigeon shooting, tree house experience, ballooning, cultural village visit, golf, helicopter flip over the Blyde River Canyon and God's Window.
All rooms have aircon, rooms fans, mosquito nets, private plunge pools, indoor and outdoor showers, in room safes, personal bars, hairdryers, fire place, FREE Wi-FI and Satellite television in public area only. There is a small gym for guests use if required.
A Guest Conservation Contribution (currently R114 per person per night) has been included within your rate. The proceeds go towards the Sabi Sand Wildtuin anti-poaching efforts, the community and ecology.
American Express, Diners Club, MasterCard & Visa Cards are accepted.
Please be advised that the use of unmanned aerial vehicles (UAVs), terrestrial UAVs, as well as aerial UAVs (or drones) is prohibited for the following reasons:-
1. The lodge is committed to ensuring that all guests and wildlife are not disturbed, where practically possible, by artificial mechanisms of any kind;
2. Security concerns around rhino poaching;
3. The use of recreational drones is prohibited in terms of Section101 of SA Civil Aviation Regulations 2015.
This policy includes their own staff as well as professional photographers.
Popular Alternatives to Lion Sands Ivory Lodge
These are the top properties booked by people who considered staying at Lion Sands Ivory Lodge, but for one reason or another booked a different property. It may have been that Lion Sands Ivory Lodge was not available on the nights they wanted to stay, or they decided that somewhere else was better suited to their budget or itinerary.
If you're not sure which place might be best for your own trip then either give us a call or get in touch via the website, and we'd be delighted to run through the options with you.
Add To Wishlist
Enquire Now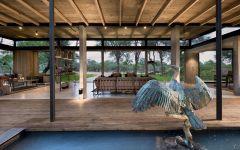 Location