A safari holiday is a trip of a lifetime, so it's worth planning it down to the finest detail and getting it just right. When we discuss tented safari lodges with our clients, we often find that the suggestion of a tented camp is met with a marked skeptical silence on the phone. And no wonder. In the UK, camping conjures up visions of muddy fields with distant toilet blocks and a menu of charred, assorted, yet still somehow undercooked, sausages. Hardly a portrait of the holiday highlife.
In fact, we can personally sympathise with the tented lodge trepidation that our customers express. Some 11 years ago, when we booked our own very first safari holiday, we opted for a tented camp, only to experience these ambiguous feelings ourselves. Safe to say, we were both a little nervous about the 'camping' concept during the build up to the trip. However, on arrival, we saw that our concerns were totally unfounded – especially when we were luxuriating in our private plunge pool with a glass of bubbly!
We stayed at Savanna Private Game Reserve in the Sabi Sands,  where the air-conditioned tents are kitted out with every creature comfort imaginable. Each tented suite comes complete with a fully-stocked mini bar, a spacious en-suite bathroom with outdoor and indoor showers, and a private veranda. Not only this, but we were treated to spectacular views over a floodlit waterhole from the main lodge, which is set in lush gardens with lovely views. Every need we had was catered to by the friendly bar and waiting staff. We simply couldn't believe our luck.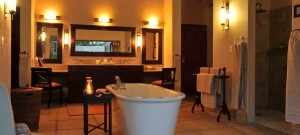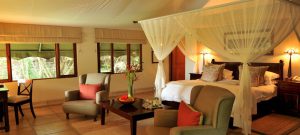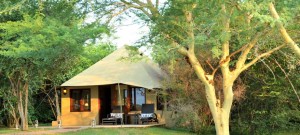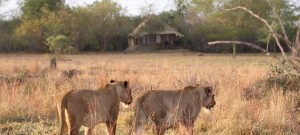 Savanna is no exception to the rule. In reality, an African tented safari camp is worlds away from a flimsy canvas dome in a soggy field. It's camping, yes, but know as you know it. The tents are draped in luxury, from four poster beds to outdoor showers and private verandas under starlit skies. The main lodges are little pockets of true decadence, with outdoor swimming pools, killer views, roaring open fires and outdoor blazing 'boma' bonfires. World-class food is lovingly prepared for every meal, without a charcoal sausage in sight!
Staying in a tented lodge is a route straight into the romance of Africa. Tucked away in the heart of the bush, surrounded by acacia trees, chattering birds and the sounds of the wildlife in the distance, it's a totally immersive safari experience. It's not uncommon to see giraffes wandering past the camp from the patio and elephants drinking from the waterholes around the camps, so it's about as close to nature as you can possibly get. The night skies are completely unpolluted and filled with bright stars, making everyday life feel a thousand miles away. There really is nothing quite like it.
So, having calmed those 'camping' nerves, we've put together a handful of top notch tented lodges that we love at Travel Butlers. Here's our lodge lowdown:
Wildside Safari Camp, Entabeni Private Game Reserve, South Africa

This lovely tented lodge is brilliant for Big Five safaris and amazingly good value for money. Situated in the 22,000 Entabeni Safari Conservancy, a convenient 3 hour drive from Johannesburg, the camp is nestled against the cliffs of the Waterberg Mountains. Its tented chalets are decorated in traditional safari style and the lodge offers a huge assortment of exciting activities, from scenic helicopter flights to sunset cruises. The reserve is malaria-free, making it a great option for families, and there are 4 dedicated family chalets available.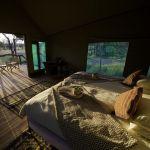 This tented camp calls itself 'one of Namibia's best kept secrets' and for good reason. Located in the endless plains of the 30,000 hectare Ongava Game Reserve, at the southern tip of Etosha, the exclusive camp overlooks a popular waterhole and features just 8 traditional Meru-style chalet made from stone, canvas and thatch, with romantic al fresco showers and panoramic verandas. It's a complete safari hideaway in one of Africa's most remarkable wildlife destinations, and we can't stop singing its praises.
Ngala Tented Camp, Timbavati Game Reserve, South Africa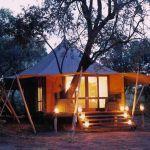 This intimate safari getaway is totally spellbinding. Situated on a riverbed in a wild and remote corner of Timbavati Game Reserve, which shares unfenced borders with Kruger, Ngala Tented Camp will bring you as close to nature as you can possibly get. Animals wander freely through the camp grounds and sleeping under canvas in a luxury tent, you'll be treated to a nightly bush chorus. The rim-flow swimming pool on the riverbank, surrounded by wildlife, is something really special. Think moonlit riverbed meals, stargazing, and romantic bush sundowners. Bliss!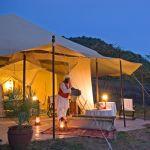 This tented lodge takes you back in time to a whimsical age of intrepid explorers and wildlife pioneers. Set deep in the south-east corner of the Masai Mara, bordering the Serengeti and Loliondo reserves in an untouched 250,000 acre concession, Cottars is an exclusive camp with a huge personality. Staying in authentic white canvas tents full of stylish safari antiques, you'll feel as though you've stepped back into the elegant golden era of the 1920s. Gazing across the plains from your private veranda, you can get wonderfully lost in the spirit of safari. The dedicated team of genteel butlers will cater to your every need and there's even a masseuse on hand for complimentary massages and manicures. Not your average camping experience!
Bayethe Lodge, Shamwari Game Reserve, South Africa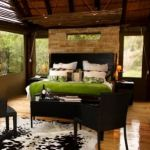 Last but not least, Bayethe Lodge, located amongst the hills and valleys of the 25,000 hectare Shamwari Game Reserve is a true example of tented camp luxury. Popular with honeymooners for its intimate atmosphere, the tented suites at Bayethe are hidden away between the trees to guarantee true privacy. Every suite has its own private plunge pool and viewing decks perfect for a starry tipple before bed. The 3 Superior Suites even feature romantic roaring open fires, offering total decadence and seclusion. Shamwari is also malaria-free, making it a completely worry-free retreat from rest of the world.
This small selection is merely the tip of the tented camp iceberg. There are many more brilliant options available across Southern and East Africa. We'll happily talk you through the features and amenities of each lodge to put your camping concerns to rest once and for all.
Comments Off

on Tented Safari Camps: It's Camping, But Not As You Know it…