We have had the Royal birth, we have just had the Royal christening – but these 2 significant events have been royally topped with the recent news from our friends at Pumba Game Reserve in the Eastern Cape.
Not one, not 2 but THREE pure white lion cubs have been born!
The mother, Nomathemba, who is a pure white lioness herself, had been in 'hiding' while she gave birth, and for the first few weeks after the cubs were born.  The cubs were finally revealed briefly to the world (well, OK, the game rangers and lucky guests) on 29 September.   The sex of the three bundles of cuteness is not yet known, this will not become evident until another few months when the cubs are about 6 months old.  The father, Themba, also a pure white lion, is said to be very proud of his offspring…
Pumba are just one of a few reserves in Southern Africa to have free-roaming self-sustaining white lion.   Pumba first aquired white lion soon after the reserve opened in 2005, and these 3 cubs are the first to ever have been born in the reserve.
White lions are not a subspecies of lion, rather, the rare white/cream colour of the white lion's coat is due to a recessive gene in their make up.  Because of this gene, they are not classed as albinos.   A similar gene also produces white tigers.
All we can say is – we wish we were going on safari to Pumba soon so that we could get to see these little cubs as they start to venture out of the den more and do what all lion cubs do so well – play!!   And if you are one of the lucky ones who are going to Pumba soon, it may be an idea to make sure you have a spare memory card for your camera when out on your game drives…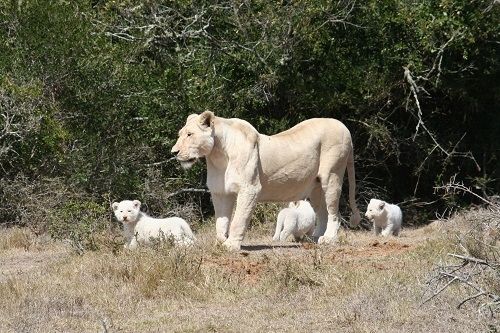 Comments Off

on Cuteness in the Cape