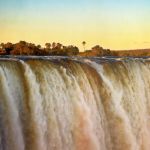 At last !! Now it is possible to fly directly from Cape Town to Livingstone and Victoria Falls !
Zambezi Airlines have just announced their new direct flights – the planned schedule (due to be launched at the end of June) will be as follows :
From 30 Jun 11 until 31 Dec 12, flights will depart on a Monday, Wednesday and Friday from Cape Town at 8 am, arriving into Livingstone at 11.10 am – so you can then spend the rest of the afternoon at the Falls !
On the way back, the flights depart Livingstone on a Tuesday, Thursday and Sunday at 2 pm, arriving back into Cape Town at 5.10 pm – so just in time for a sundowner !