The Two Oceans Aquarium is offering a winter special valid until October 31 2009.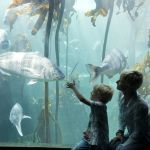 Two adults and 2 children (between 4 and 13 years) will pay just R180 entry to the aquarium.
The Afrisam Children's Play Centre, which looks on to the penguin pool, is receiving a face-lift and families will now be able to visit the 'beach' during winter.
'The beach' is the new theme for the centre. Children will be able to build sandcastles and watch puppet shows while parents sit back and enjoy the antics of the rockhopper penguins.
Frogs, such as a giant bullfrog, a rehabilitated Western leopard toad named Teddy, dainty arum lily frogs and the newest arrivals – green and black poison dart frogs – will make appearances.