The Two Options Explained
Going on safari in Tanzania is not something that we recommend you try to do 'on your own' with your own hire car. The roads are bumpy, the driving distances long, and in the Parks themselves, the network of roads is confusing. So being in the company of an experienced guide who knows the ropes, and knows his way around, will give you not only a better safari experience, but also a more relaxed one.
The Northern Tanzania safari circuit is one of the most visited safari areas in Tanzania, and safari goers here may take in one, 2, 3 or more of the National Parks - including the Serengeti, the Ngorongoro Crater, Tarangire and Lake Manyara.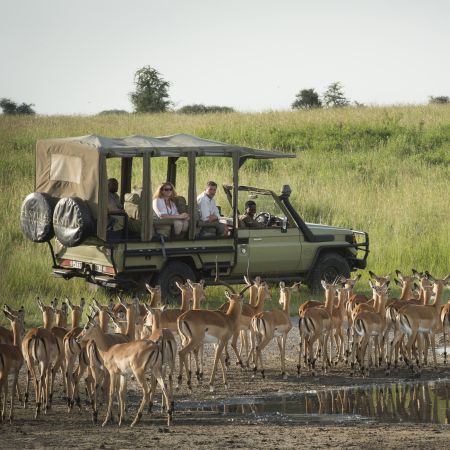 For many people, getting around the Northern Circuit involves employing the services of an experienced driver-guide, who will be with you throughout your safari experience. Your vehicle will be a 4x4 closed land cruiser, with a pop up roof for easy game viewing, and sliding windows for that all important 'low down' photo angle. It will be just your group on the vehicle – so whether you are a couple or a family or a group of friends travelling together, the vehicle will be yours and yours alone – giving you all the flexibility in the world. So if you want to sit for hours watching lions sleeping under a tree – you can! Nobody will be moaning in the seat behind you because they are bored! The maximum number of guests the vehicle can take is 7, however for this number, the 7th person will be sitting upfront next to the driver – so no access to the pop up roof.
Your guide will be fluent in English – some more so than others of course - but bear in mind that English may well be their 2nd or 3rd language after Swahili. If your first language is something other than English, however, some of the guides may well have this in their repertoire too, so it is always worth asking if it is possible for a guide who is fluent in German, Spanish or French.
Your driver-guide will also take care of all the 'behind the scenes' paperwork during the trip - so making sure permits are in order to enter the various National Parks and calling ahead to the camp with an estimated arrival time so that you are greeted with a cold refreshing towel and drink as soon as you turn up.
Once you have arrived at each camp, your driver-guide will check that you are settled in OK, and then he will disappear to be with this guide friends in the staff quarters – so don't worry that you have to spend all the time together! He will also discuss what time you want to head out on your next game drive so that you all know what time you are next meeting. If you have a change of heart and decide after he has gone that you want to depart earlier or later, the camp will be able to get a message to him!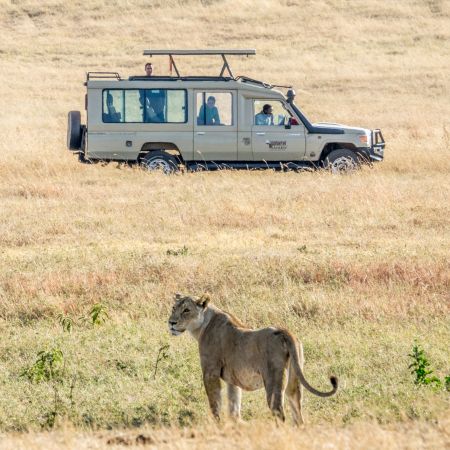 © Travel Butlers
The driving distances between the Northern Circuit major destinations are long, however, so you do have to be prepared to sit in the vehicle for maybe up to 5 hours. Arusha to Tarangire or Lake Manyara, for example, is about 3 hours on a relatively good tarred road; the main gate to the Ngorongoro Conservation Area is an hour further from Lake Manyara. The road between Ngorongoro and the main Serengeti Gate is dusty, bumpy and takes about 3 hours and you really are bounced about – hence the amusing term 'African Massage'. When you enter the Serengeti, you then may have another 2-3 hours until you reach your camp. And driving from the Central Serengeti up to the far Northern Plains is about 5 hours! On the positive side, however, if you wear a fitness tracker, you will easily meet your daily steps goal with all the bouncing around!
If you are happy with a long drive one way but you don't fancy doing the drive in reverse to get back to Arusha or Kilimanjaro Airport, there is the option to say goodbye to your driver-guide at one of the many airstrips and you board a light aircraft and fly back in style – and comfort!
Of course, the idea of comfort and style may be the overriding appeal - in which case a fly-in safari for either part or for the entire duration of your safari may be for you. This is particularly recommended if you are looking to combine the Parks nearer to Arusha - so Tarangire, Manyara and Ngorongoro Crater - and then fly to the Western Corridor or the Northern Serenget Plains if you are travelling over a period when the migration is hopefully passing through these more remote areas.
The 'happy medium' is to have a driver-guide for the first part of the safari, then fly to the Western Corridor and/or the Northern Plains - the 'full blown' option is to fly from Arusha to every destination.
Any fly-in package is commonly referred to as a Game Package - meaning that your game drives are included at the camp. Costing slightly more, the main advantage this gives you over the driver-guide option is that you obviously save time - and you avoid the bumpy long transfer drives. For some people, this is key - especially if maybe they have back problems or struggle with sitting down for a long period of time, the fly-in safari option is an ideal way to see the Northern Circuit highlights.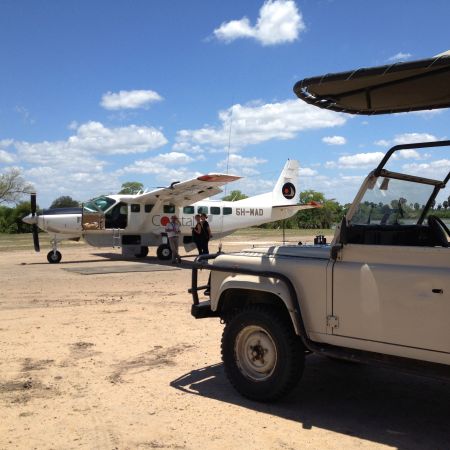 The aircraft will be of the 'small' variety however - no jumbo jets on these routes! Seating between 12 and 20 people, you have a bird's eye view of the bush and the wildlife as you approach your destination - it's quite a thrilling way to arrive. Your camp will arrange to send a guide to meet you, and you will normally be greeted with a cold face cloth and some may even offer a refreshing drink. Normally, the guide that meets you will then be your guide during your stay at the camp - which has its advantages too. The guide is permanently based at one camp, so his actual knowledge of the area, the resident wildlife, even the weather patterns, will be amazing - and on game drive, you will get to share this all with him.
The camps do have a limited number of vehicles based at the camp, so on a fly-in safari, you will find yourself with other guests - the vehicles normally seat between 4 and 6 people only, so everyone has a 'window-seat'. The vehicles also may seem slightly nicer than the driver-guide vehicles - they firstly don't have to do as many kilometres; neither do they have to have closed sides as you are not driving on public roads - so the 4x4 camp vehicles tend to be open (but still with a canopy on the roof) - but the windows will roll completely up giving you greater visibility and scope for that photo opportunity. It is also fair to say that it is the more expensive camps that offer this type of fly-in package - so you would expect better quality vehicles!
If you really don't like the company of other people, some camps may be able to arrange for you to have your own private vehicle and guide - and of course, there are some exclusive camps that offer this as a matter of course anyway!