Introduction
Coming close up with a Southern Right whale in its natural habitat is an exhilarating experience, and you certainly get a thrill from boat-based whale watching. Whales are generally friendly, curious creatures, and will often surface 5m from the boat - offering an unforgettable close encounter!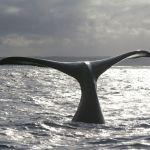 The boats will not go out in stormy or extremely windy weather, so you must always be prepared for a trip to be cancelled in adverse conditions. It is advisable to phone up the day before to check with your operator whether the weather conditions are looking favourable.
The best time to go out is early morning, as the winds do pick up during the day, and the afternoon rides tend to be much more choppy and rough. It is extremely important that you check with your operator the time you should meet, and make sure you are there in time - the boats have to go out at certain tide levels, and quite simply if you miss the tide, then you don't go out.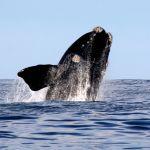 The sea can be choppy, and if you suffer from sea-sickness, it is certainly advisable to take some tablets before you set off on your boat adventure. Most operators will give you waterproofs to wear, but it is always worth checking with your operator first as you don't want to run the risk of being soaked with spray when the boat bounces through a particularly rough wave.
If you have expensive camera equipment, it may also be worth investing in a plastic covering - or even bring along a home-made one! However, unless you have an extremely steady hand, don't expect to take an award winning photo, as you may be spending most of your time bracing yourself against the movement of the boat. Instead of hiding behind your camera lens, just enjoy being this close to one of natures gentlest giants, and marvelling at its gracefulness.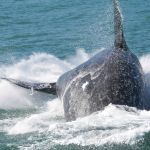 Boat-based whale watching has, not surprisingly, become extremely popular, and it has become necessary over the past few years to limit the 'tourist intrusion' to avoid undue stress for the whales. Only operators holding a registered permit are allowed to approach and remain within 50m of a whale. There are only a limited number of permits granted every whaling season throughout the whole of South Africa, and the selected operators that Travel Butlers recommend are all permit holders. The operators who do not hold a permit are only allowed within 300m of a whale. However, should the whale decide to approach the boat, it then really doesn't matter whether you have a permit or not!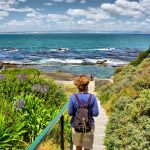 If your sea-legs really aren't that strong, then watching whales from the shoreline or from the cliff tops is still a fantastic experience. There are plenty of excellent viewpoints along the recognised whale watching routes, and your guest house or the local Tourist Information Office will be able to advise on the best places to go. The whales often come extremely close to the shoreline - within one kilometre - so binoculars are not always necessary, though they are a useful thing to have with you so you can get a closer look. The other advantage is that you will be able to take better pictures, as you will be more steady! Many of the whale watching routes have interpretative signboards along the way, with useful information about the whales.