Balloon Rides
One of the most spectacular ways to enjoy the stunning scenery of the Lowveld is to drift slowly and silently over it in a balloon.
Whilst it is not possible to take a balloon ride over the Kruger Park or the neighbouring private reserves, the sunrise trips from the Hoedspruit area over the countryside are extremely popular, and a worthwhile addition to any itinerary. The flight starts over the foothills of the Drakensberg escarpment and continues over a terrain of small hills and hidden valleys, densely covered with indigenous forest and fruit orchards.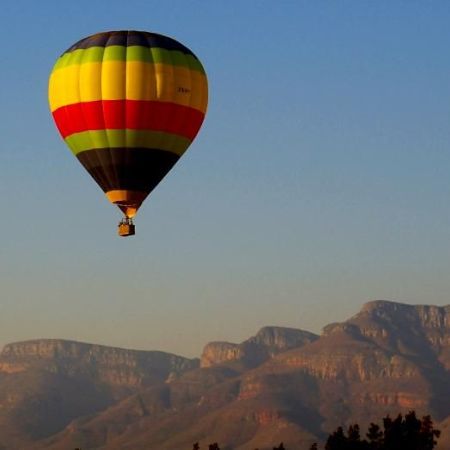 On arrival at the launch site you enjoy an early morning tea or coffee whilst the pilot and ground crew finish inflating the balloon and preparing for take-off. Your launch will be as early as possible (once the balloon is ready and the conditions are favourable), and the flight itself lasts about an hour.
This is a wonderful experience with magnificent views of the Drakensberg escarpment to the west and the Lowveld to the east. The Sabie River below you winds its way to the distant horizon. Aside from the occasional roar as your pilot turns on the burner to increase your altitude, the only sounds you will hear are the early morning calls of birds and monkeys echoing beneath you as the forest awakes.
Landing can sometimes be a slightly bumpy affair, but it all adds to the adventure. Once safely back on the ground,the bubbly is opened and a successful flight is celebrated with a traditional sparkling wine toast.
Please enquire with Travel Butlers if you would like a quote for this amazing experience.
Please note that passengers must be fit enough to stand unassisted for an hour and must also be able to climb in and out of the basket. Youngsters are welcome but should be at least 1.2m (4 foot) tall, so that they can see over the rim of the basket. Regrettably, pregnant women may not participate in a balloon flight.