Accommodation in Sandton, Melrose Arch, and At The Airport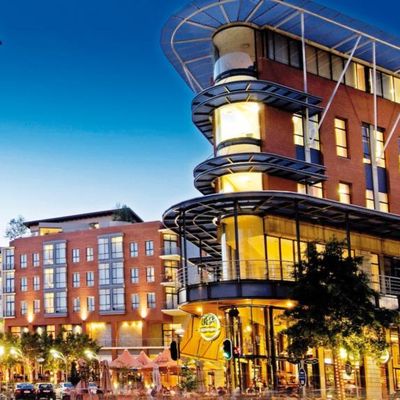 The majority of visitors to Johannesburg who are visiting the city for 2 or more nights stay in one of the many wealthy and exclusive northern suburbs of the city, as some of the best accommodation options are found here. Sandton is the main hub of this area, and is easily accessible from Johannesburg OR Tambo International Airport - especially since the opening of the Gautrain, which is South Africa's first world-class, modern rapid rail service - it takes just 15 minutes from the airport direct to Sandton. Sandton also boasts excellent shopping malls and restaurants.
Whilst Sandton is the best known of the northern suburbs, Melrose Arch is also a very popular area and has some lovely squares filled with bars and restaurants.
Like any big city, traffic can be a major headache in Johannesburg, and so most visitors who only need an overnight stay to fit in with airline schedules for flights on to Mozambique, Mauritius, or Victoria Falls will tend to stay at one of the excellent hotels at the airport.
Failed to validate XML - 2
Error code: -1072896749, Line: 6, Character: 92, Source: "/property/protea-hotel-or-tambo/
<![CDATA[/property/protea-hotel-fire--ice/
<![CDATA[/property/intercontinental-johannesburg-or-tambo-airport/
<![CDATA[/property/african-pride-melrose-arch-hotel/
<![CDATA[