Cape Town
Camps Bay Retreat comprises of 4 acres with waterfalls, mountain streams and pools. The views are simply splendid across the ever-changing Atlantic Ocean and along the peaks of the Twelve Apostles mountain range.
This large estate is situated in the popular and glamorous seaside resort of Camps Bay, one of the most beautiful bays in the world. Tucked away in the crook of a glen that runs between Lions Head and Table Mountain, Camps Bay Retreat is the perfect holiday venue.
Himitsu, meaning secret in Japanese, is a modern Asian restaurant offering western breakfasts and eastern delights. It also serves lunch and dinner.
Camps Bay Retreat boasts 2 swimming pools as well as a natural mountain pool. The main swimming pool is solar heated. There is a cooler pool at Deck House.
There is also a small fitness centre, and a tennis court.
The Wellness Centre offers a range of treatments, including facials and massages.
You have a choice of accommodation options.
Earl's Dyke Manor features 3 suites with views reaching the ocean and the Manor House Room has expansive views over the gardens and forest.The Nature rooms and studios feature modern interiors and wooden decks with seating, and the studios also include a kitchenette.

The Nature Residence is perfect for those looking for space and privacy. It features a fully equipped kitchen, dining area, a spacious lounge with fireplace which leads out onto a terrace with views of the ocean and forest. The bedroom has an en-suite bathroom.
The 3 Sky Rooms are located on the first and second floor of the Deck House with views of the ocean and garden, whilst the spacious Sky 3 Bedroom Suite with its 3 bedrooms and balconies on either side presents spectacular views of the forest, Twelve Apostles Mountain Range and the sea.
The Villa ocean room and suite open up onto a balcony boasting views of the ocean and Lions Head mountain.
Featured Special Offer sa-5301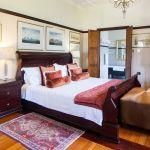 Stay 3 nights for the price of 2 at Camps Bay Retreat in Cape Town. Bed and Breakfast basis.
Valid: 1 May 2022 - 30 September 2022.
Prices On Request
Show Rates in
Our standard rates for a Villa Ocean Room
Dates
Price
Basis
Type
Nights

1 November 2023

to

14 December 2023

GBP 167

USD 206

ZAR 3,767

EUR 193

per person sharing
Contracted FIT Rate
1+ nights

1 December 2023

to

14 December 2023

GBP 167

USD 206

ZAR 3,767

EUR 193

per person sharing
Contracted FIT Rate
1+ nights

15 December 2023

to

6 January 2024

GBP 188

USD 231

ZAR 4,224

EUR 216

per person sharing
Contracted FIT Rate
3+ nights

7 January 2024

to

28 March 2024

GBP 167

USD 206

ZAR 3,767

EUR 193

per person sharing
Contracted FIT Rate
1+ nights

29 March 2024

to

1 April 2024

GBP 167

USD 206

ZAR 3,767

EUR 193

per person sharing
Contracted FIT Rate
3+ nights

2 April 2024

to

30 April 2024

GBP 167

USD 206

ZAR 3,767

EUR 193

per person sharing
Contracted FIT Rate
1+ nights
Prices are on a per person sharing basis (pps).
Special offers for longer stays or when booked as part of a longer itinerary may apply - details on request.
---
Rates Include
Breakfast is included.
---
Children Policy
Children of any age are welcome. Rates available on request.
---
Reload Map
Camps Bay Retreat Location.
Directions For Drivers
From Cape Town International Airport: Exit the airport and take the N2 towards Cape Town. As you approach the city, follow the N2 CITY, FORESHORE, SEA POINT signage. Follow N2 Stad/City signs until you arrive at a large intersection with several sets of traffic lights (Coen Steytler Avenue) The CTICC is on left hand side and the V&A Waterfront on your right hand side.
Proceed straight ahead along this road (M62) following the TABLE MOUNTAIN CABLE WAY/ CAMPS BAY signage.
The road follows a steep and winding ascent to the top of the hill (Kloof Nek). Without turning towards the Cable Way, descend straight into Camps Bay.
Take the second road to your right, Geneva Drive and follow its winding descent
Turn right into the 5th road, Sedgemoor Road, and straight over a stop street (Berkley Road)
Chilworth Road is the very next road to your right. Turn right here and Camps Bay Retreat is 100m down the road on the left hand side. :
General Information For Guests
All of the rooms feature private balconies with deck chairs (Deck House / The Villa), air conditioning and heating, separate bath and shower, heated towel rails, a hairdryer, Nespresso Pod coffee machine (pods available at an additional charge), tea/coffee making facilities, a mini bar (stocked on request), satellite television with selected channels, electronic safe, complimentary Wi-Fi and telephone/laptop facilities.
Suite 16 has 3 bedrooms, 2 bathrooms, a large lounge, fireplace, a dining room and balconies on both sides offering spectacular views.
Facilities at the Camps Bay Retreat include 4 swimming pools (including a mountain pool), a spa with a sauna and steam room, hiking/nature trails, wine cellar, a private tennis court (lessons can be arranged - additional cost), heritage lounge, a library with a guest computer, Sandy B Private Beach Club membership at The Bay Hotel (guests over 18 only) and complimentary secure parking.
The in-house restaurant Von Kamptz serves a range of mouthwatering dishes which are beautifully presented. They include traditional South African dishes, classics and modern inventions.
Traditional South African 'braais' are done every Wednesday and Saturday at the retreats gardens.
A laundry service is available (additional cost).
The hotel is now 'cashless' so payment for extras can be made via credit cards, mobile payment apps or other electronic payment methods.
Popular Alternatives to Camps Bay Retreat
These are the top properties booked by people who considered staying at Camps Bay Retreat, but for one reason or another booked a different property. It may have been that Camps Bay Retreat was not available on the nights they wanted to stay, or they decided that somewhere else was better suited to their budget or itinerary.
If you're not sure which place might be best for your own trip then either give us a call or get in touch via the website, and we'd be delighted to run through the options with you.