Cape Town
Nestled in the heart of Cape Town Marina in the V&A Waterfront lies the beautiful and modern Lawhill Luxury Apartments.
The apartments offer 5* accommodation at an affordable rate. Each apartment offers television with selected DSTV channels, air-conditioning, a fully equipped kitchen with fridge, freezer, stove, oven, microwave, washing machine, tumble dryer and dishwasher, a dining area, an open plan lounge, and a patio or balcony with outdoor furniture
There is only a small path separating Lawhill from the One&Only Hotel and guests at Lawhill are invited to make use of their spa facilities and restaurants.
Rates Include
Self-catering basis - no meals are included.
---
Children Policy
Children of any age are welcome. Rates available on request.
---
Special Offers
Free Night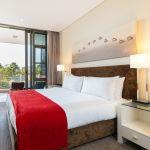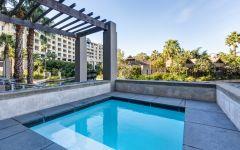 Code: SA-05191
---
Stay for 4 nights for the price of 3 at Lawhill Luxury Apartments in Cape Town.
Valid: 1 May 2021 - 30 June 2021.
Book Before: 26 June 2021.
Prices on Request
Guest Rating: 4.9 / 5.0 based on 23 ratings

All the accommodation was fantastic and exceeded our expectations. Aquavit was the "stand-out" accommodation because the quality of everything was quite exceptional. Amakhala game drives were the highlight and our Ranger, Leonie, was excellent. Both the Lawhill Apartment and Abalone Guest House were very high quality.

R JOHNSON

Thank you for suggesting the Lawhill Apartments. It was very nice and in a perfect location. Everything went smoothly and all of the people were friendly, making this holiday a wonderful experience. Thank you Anneli for your help and quick responses. Much appreciated!

A ELL
Reload Map
Lawhill Luxury Apartments Location.
Directions For Drivers
From the N2 (Cape Town International Airport/the Winelands/Hermanus/The Garden Route): Follow N2 from airport towards Cape Town, V&A Waterfront. On reaching the traffic lights with the Cape Town International Convention Centre (CTICC) on your left, take a right towards the Waterfront and carry on straight. At the roundabout, take the first exit to your left. Carry on to the second roundabout and take the last exit to your right into the Marina Residential, Bluff entrance. Tell security that you are checking into Lawhill and they will let you through. Turn left and follow the road to the second last building, Lawhill A, where you will find the reception desk.
Check in procedures: Drive through and park in an available parking bay at the entrance. Go into the Security office where you will be required to fill in an access control sheet and have a photograph taken in order to activate your access disk. Once this is completed, you may continue to the end of the road to the second last building, Lawhill A. At Lawhill A you will find the reception desk where you will be asked to fill in a form. You will be escorted to your apartment and be orientated.
General Information For Guests
Each apartment at Lawhill is designed for comfort. All the apartments have their own balcony with comfortable outdoor furniture from which to enjoy the views of the marina, the canal and the One&Only Hotel.
Each apartment also features a fully equipped kitchen, dining area and open plan lounge, with complimentary tea and coffee facilities, air conditioning and wireless internet access.
All apartments are serviced, which means you don't have to worry about cleaning and maintenance.
There are 5 main swimming pools for the enjoyment of all guests, as well as a gym.
There is excellent security offered on a 24 hour basis and your vehicle will be safe and secure in the underground parking area.
The dedicated reception desk concierge and staff members will ensure that you are provided with information on things to do in Cape Town and will help with booking taxis or restaurants.
When staying on the V&A Waterfront Marina you can easily walk to local shopping malls, restaurants, pubs and other attractions and activities. You can even pop over to the One&Only Hotel which has a spa offering some relaxing treatments.
Credit cards are accepted.
A laundry/dry cleaning service is also available (additional cost).
Popular Alternatives to Lawhill Luxury Apartments
These are the top properties booked by people who considered staying at Lawhill Luxury Apartments, but for one reason or another booked a different property. It may have been that Lawhill Luxury Apartments was not available on the nights they wanted to stay, or they decided that somewhere else was better suited to their budget or itinerary.
If you're not sure which place might be best for your own trip then either give us a call or get in touch via the website, and we'd be delighted to run through the options with you.