Kenya's Capital City
Nairobi is the capital city of Kenya, and is home to just over 4.3 million people. It is a busy city, and traffic jams are frequent occurances!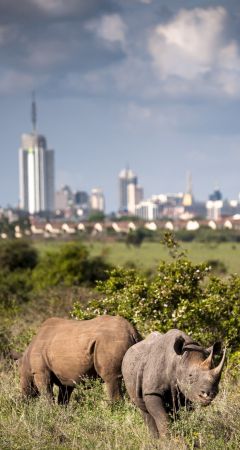 © Paolo TorchivThe majority of visitors to Kenya will arrive into and depart via Nairobi. The international airport is called Jomo Kenyatta Airport, which is located on the south-eastern outskirts of the city. Near to Jomo Kenyatta is Wilson Airport, which is where all the light aircraft flights depart from for anyone heading to one of Kenya's safari parks.
Whilst it is fair to say that many people will fly in and head straight off on safari or to the beach, spending a night or two in the capital does have its advantages, and will actually add something to your holiday experience in this country.
Nairobi National Park
Nairobi is the only capital city in the world which has a National Park within its boundaries. Within 15 minutes of leaving the international airport, you can be on a game vehicle and driving along dusty roads, looking out for lion and rhino - all with the slightly surreal backdrop of the city landscape in the distance.
Wide open grassy plains are dotted with acacia bushes, and are home to a variety of wildlife. Giraffe, buffalo, zebra, lion, hippo, cheetah, leopard, hyena, the endangered black rhino and antelope are some of the animals you may encounter, and birders will delight in the 400+ bird species that have been recorded here.
With two accommodation options in the Park - Nairobi Tented Camp and Emakoko - this is certainly a unique way to start or end your safari holiday in Kenya.
Leafy Suburbs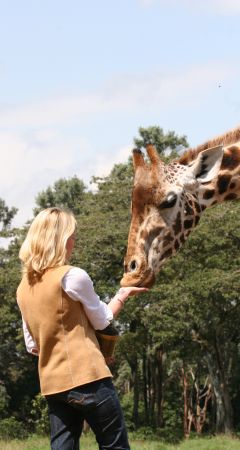 The leafy and affulent suburb of Karen is very popular with international visitors who would like to take some time to relax after an international flight before heading off on safari. Going on safari can be quite full on, and especially if you have had a long flight and you might be suffering from a bit of jet-lag or lack of sleep, just having 24 hours to fully relax and get into the holiday mood may be just the right way to start your holiday.
The area is named after Karen Blixen, the Danish author who wrote 'Out of Africa' and which was made into a film starring Robert Redford and Meryl Streep. The author used to own a coffee plantation here, and her original homestead has now been turned into the Karen Blixen Museum, which is a pleasant way to spend an hour - especially if you are a film buff, as one of Robert Redford's outfits from the film is on display here.
Golf lovers can head to the Karen Golf and Country Club, which prides itself on being one of the oldest golf clubs in Kenya. You can hire clubs to play the 18 hole course, and there is also a driving range and putting green.
Giraffe Centre and Giraffe Manor
Giraffe Manor is probably the most well-known hotel in Nairobi. Featured on many TV documentaries, guests staying here can expect to share precious moments and memories with the resident giraffes, who love nothing more than meeting people and who are also not adverse to poking their heads through the window at breakfast time to see what is going on.
Even if you don't stay at Giraffe Manor, you can still visit the giraffes at the Giraffe Centre, which is open to everyone. You will be given some dried food pellets which are made of nutritious corn, wheat, grass and molasses, and you can feed these to the resident giraffe as you get up close. To get even closer, go up to the Feeding Platform where you are literally 'eyeball to eyeball' with the tallest mammal in the world - it is not something you normally can do!
The Sheldrick Wildlife Trust
The Sheldrick Elephant Orphanage is on the edge of the Nairobi National Park, and is a must for any elephant lover - or any wildlife addict come to that.
The Trust rescues orphaned baby elephants from across the country, and brings them to the sanctuary where they are looked after and hand reared by caring keepers until they are old enough to be released back into the wild again. It is one of the most successful orphan rescue and rehabilitation programmes in the world.
Visitors are welcome to join the 11:00 public visiting hour to meet the orphans close up - it is a truly magical hour!
Shopping
Shopaholics will be happy to wander around the Maasai markets and barter for woven baskets, wooden curios and beading. Unique glass ornaments, wine glasses and serving jugs are just some of the artisenal glass crafts that can be bought at the Kitengela Hot Glass studios, or pick up some beautiful beadwork at Kazuri.
Airport Accommodation
For anyone departing on an early morning international flight, the airport has two hotels - the Crowne Plaza and the Four Points by Sheraton - which means you don't have to battle with Nairobi rush hour traffic on your way to the airport - just hop on the complimentary shuttle bus and within 5 minutes you will be at the airport terminal.