Elephants are one of the coolest species on the planet and for good reason. Did you know that one of the largest and most famous African elephants was called Jumbo, his name thought to be derived from the Swahili word for 'boss' or 'chief'. He is the reason we use the word 'jumbo' as a way of describing enormous things.
Now, when it comes to looks it is fair to say that elephants don't have it all (compared to some other Africa wildlife): grey, wrinkly skin, sticky-out ears and big baggy knees (a bit like some of us, really).  But looks aside, the fact is we have a lot more in common with these intelligent giants than you may think so let us tell you why this is and where you can get acquainted with them.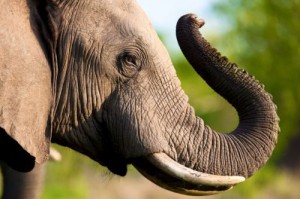 1. Brain Boxes.
Elephants are one of the most intelligent animals on Earth. Their brain weighs around 5 kg which is much more than the brain of any other land-based animal. Elephants have a more developed hippocampus than any other animal (the part of the brain responsible for emotion and spatial awareness).  They can even recognise their reflection in a mirror.
2. In touch with their emotions.
Elephants commonly display emotions including grief, humour, compassion, cooperation, self-awareness and playfulness. Elephants demonstrate concern for members of their families and take care of weak or injured members of the herd. They grieve for their dead. When herds come across an unknown lone elephant that has died they will show it similar respect.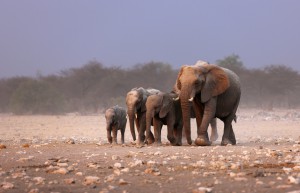 3. Social butterflies.
An elephant herd is considered one of the most closely knit societies of any animal species and a female will only leave it if she dies or is captured by humans. Elephants show affection, frequently touching and caressing each other and entwining their trunks. They can communicate within their herd or between herds many kilometres away by stamping their feet and making sounds which are too low for human ears to perceive.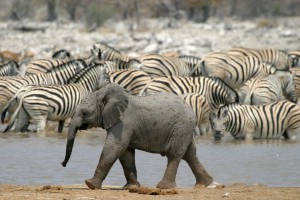 4. They make incredibly cute babies.
Baby eles are incredibly cute beings.  A little known fact is that some babies take to sucking their trunk for comfort in much  the same way that humans suck their thumbs! Elephant females can have babies until they are about 50 years old. They tend to have a new baby every 2 to 4 years.
5. Women wear the trousers.
Elephant herds are matriarchal, led by the oldest female in the group. She decides where and when they move and rest. Males leave the herd as they become adolescent, around the age of 12, and live in temporary "bachelor herds" (like our bachelor pads) until they are mature enough to live alone (much like our own men!).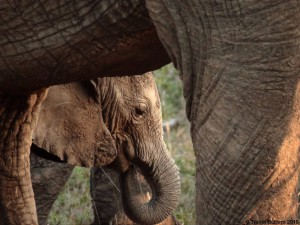 6. They have sensitive skin.
Elephants are susceptible to sunburn. To protect their little ones from the sun, adult elephants will douse them in sand and stand over them as they sleep.
7. No natural predators.
While it may be true that, like us, elephants have no natural predators, the sad fact is that it is us humans that present the biggest threat to their long-term survival, with increased poaching putting them in real danger of becoming extinct.  This highlights the critical importance of conservation and the amazing work being done by people to protect this incredible species.
Are you an ele-lover?  Here is our pick of the top five places to see African elephants in the wild. If a close encounter is what you long for let our friendly team help you to plan your perfect safari adventure to make your dream a reality.
Kruger National Park, South Africa is home to around 15,000 elephants and sightings are plentiful. Stay at Elephant Plains Game Lodge.
Chobe National Park, Botswana is home to the highest concentration of elephants in Africa. Stay at Savute Elephant Lodge.
Amboseli National Park , Kenya is famous for its elephant population and one of the best places to get up close to free-roaming elephants. Stay at Tortilis Camp.
Selous Game Reserve , Tanzania is a prime site for daily elephant encounters as they amble through camps on their way to watering holes.
Damaraland , Namibia is home to the rare desert-dwelling elephants. Stay at Damaraland Camp.
Comments Off

on Why elephants are more like us than we may think (and where to see them in the wild)