Not only is South Africa home to the traditional Big Five – it's also home to the Marine Big Five. The foaming waves surrounding the stunning coastline are quite simply heaving with life, so if you're dippy about dolphins, you're in for a whale of a time. The two oceans that crash together off the shores of the Rainbow Nation are crammed with everything from Cape Fur Seals to Great White Sharks and Orca Whales. In fact, even the beaches in Cape Town are packed with African Penguins putting on an unconsciously comical act for the crowds!
In particular, anyone fin-atical about whales will have a brilliant holiday in South Africa, as plentiful pods migrate to its waters every year. Watching a huge whale breach and spray in its natural habitat is a pretty humbling sight and seeing its tail disappear back into the blue will be something that you remember forever. South Africa is a great place to see these majestic mammals and you'll have plenty of chances to get closer to whales than you would ever imagine.

Several kinds of whale patrol the southernmost tip of Africa, so the Cape Peninsula is a superb viewing spot in an even more superb setting. Southern Right whales make their way here every year to nurse their calves while Bryde's whales roam the coast all year round, a little further from the shore. Not only this, but huge pods of Humpbacks join their cousins on a yearly basis during their seasonal migration and Orca whales are occasionally seen. Overall, there are 37 kinds of whale and dolphin in the deep, so suffice to say that blubber is truly abundant in these parts!
There are certain seasons, activities and destinations that are particularly amazing for sighting some offshore action, so if you align your trip with our marine-spotting advice, you'll be whale pleased. Here, we'll tell you all about when, where and how to see these gentle giants flipping and floating during your trip.
WHERE?
While the Garden Route might be famous, the Whale Route is equally as fin-tastic and less whale known. The route follows the coast of South Africa from Cape Town all the way around past Durban, a whopping 1200 mile stretch of whale-watching territory. Along the way, there are a handful of hotspots that are a real must for marine admirers.
Hermanus, 120km from Cape Town is one of the whale-watching capitals of the world, so if you're barmy about baleen whales, you definitely can't miss it. The town is a pretty little outpost on a cliff overlooking the ocean with a couple of whale-spotting points that will blow-hole your mind. Whales frolic in the waves only 100 metres from the shore and you can view them while you grab a picturesque bite to eat at one of the seafood restaurants. Even better, the town has its very own 'Whale Crier' who walks the streets to make sure that you don't miss a viewing opportunity!
Then, only 50km further along the coast, you'll come across Gansbaai, another mecca for marine enthusiasts. Gansbaai means Goose Bay, and while the geese may not get your adrenaline going, the whale-watching is top notch. It's a quaint cliff top town with killer views and whale-watching perches a-plenty, so it's somewhere you should certainly stop by. Often dubbed 'The Serengeti of the Sea', it's sure to get your seal of approval.
Further along the Garden Route, around the Knysna Heads and Plettenberg Bay, you'll also get a wealth of whale-watching opportunities. In both of these places, you can find cliff top panoramas where different kinds of whales can be seen all year round. Not only this, but there are Cape Fur Seals, African penguins and dolphins dipping in and out of the waves all along the shoreline, so you're guaranteed some magical marine moments in these destinations.
WHEN?
Bryde's whales can be seen from South Africa's coast all year round, but other whales have a far more migratory presence. From May, hoards of Humpback Whales make their way to these partsWand then, from June, the Southern Right whales begin arriving from Antarctica to calve and nurse their young in the waters of the Western Cape. Killer Whales visit more infrequently, but can still be sighted in the surf from time to time.
The peak season for whale sightings along the Whale Route is September and October, when you can reasonably expect a daily dose of action. From both cliff tops and tour boats, you'll see an ocean teeming with life, with dolphins flipping, blowholes spouting and tail flukes flapping against the blue skies and choppy seas.
While there are many species of whale lining the shores during September and October, the most common sightings by far are Southern Right Whales. It's a real privilege to get a peek at these creatures, measuring up to a whopping 15 metres and weighing up to 60 tons. There are only 3,000 to 4,000 Southern Right Whales left in the world today, so they really are something special to behold.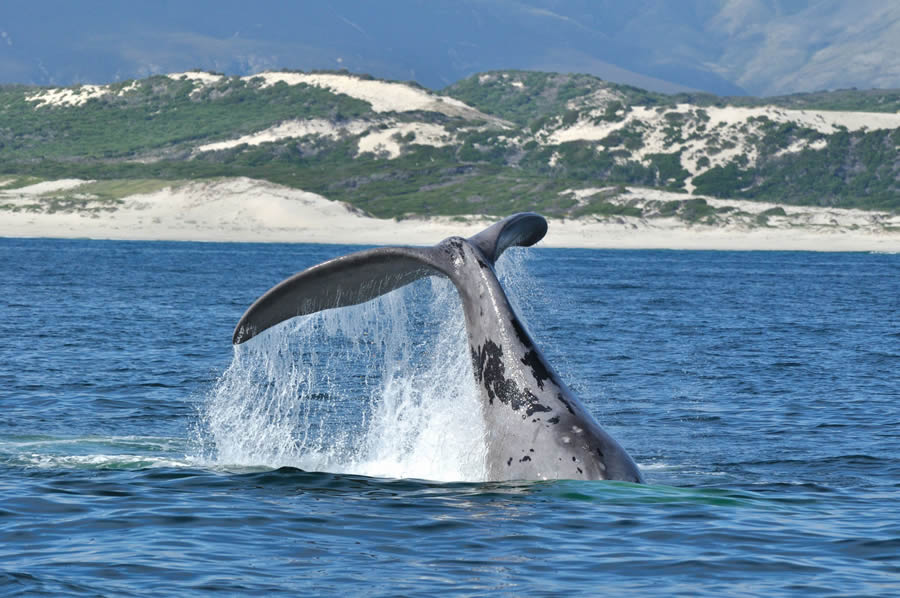 HOW?
You can spot whales in South Africa by land or by sea, so if your sea legs are somewhat wobbly, you should still get an eyeful to really remember. The cliff tops of Hermanus, Gansbaai and the Robberg Nature Reserve near Plettenberg Bay are excellent places to pack a picnic, take a perch and wait for sensational sealife to surface before you. There are also plenty of coastal cafes and restaurants to sit back with a glass of crisp South African white wine and watch the waves offshore.
If you're eager to get even closer, you can take boat trips out into the blue, where you can expect close-up encounters with the wildlife of the waves. Daily tours leave from Hermanus, Gansbaai and Plettenberg Bay, so you won't be short of options along these shores. From Hermanus, the Southern Right Charter trips will set you on course for simply wonderful Southern Right sightings in Walker Bay. Along the way, you'll probably bump into bottle nosed dolphins, seals and a multitude of marine birds.
Gansbaai is the jumping-on point for boats to Dyer Island, which has a 50,000 strong colony of Cape Fur Seals and a plethora of African and Jackass Penguins pootling about. It's also an adrenaline junkie's dream, with hair-raising shark cage diving trips setting sail for infamous Shark Alley each day.
Finally, Plettenberg Bay is awash with whale-watching tour options that operate all year round, so you're bound to get an experience that you'll be blubbering on about for weeks on end.
---
By now, you're probably groaning under the weight of a thousand the whale puns, so you'll be pleased to know that this is Le Fin. Take it from us, marine life in South Africa is just magnificent, so if you stick to these tips, you won't be sorry.
Comments Off

on Have A Whale Of A Time In South Africa