Introduction
On the Western Cape, Hermanus and Gansbaai are the 2 main areas for whale watching, either boat-based or land-based.
Only 120 km from Cape Town, the pretty little town of Hermanus is one of the world's 12 best whale viewing sites. It is a popular weekend and holiday destination for South Africans, as well as for overseas visitors. The local 'Whale Crier' walks the streets during the whaling season, informing visitors when the whales are present with a blast on his kelp horn. At the Old Harbour Museum, an underwater microphone transmits the whale songs and calls into the museum hall for everyone to hear.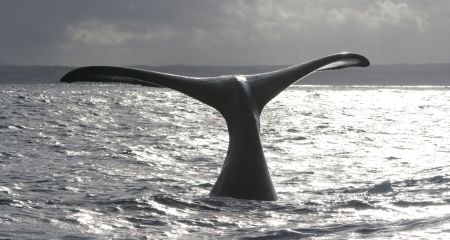 Good whale watching vantage points are from the Old Harbour wall, or from the 12 km cliff path. Another great spot to watch the whales is at Bientang's Cave restaurant, where from your table you can watch the whales frolic not more than 100m away in the Old Harbour. The town also has several fine beaches and restaurants, as well as an excellent selection of guest houses and hotels if you do not fancy the very early start needed to drive the 90 minutes from Cape Town to get to the early morning whale watching boat on time!
Our recommended operator from Hermanus is Southern Right Charters whose trips go out into Walker Bay. As well as spotting whales, you may also encounter dolphins, seals, penguins and marine birds.
Gansbaai (meaning Goose Bay) is a quaint traditional fishing village just 50 km along the coast from Hermanus. The awesome De Kelders cliffs offer excellent land viewing opportunities along the coast during the whale watching season.
The boat-based whale watching trips from here, with our recommended operator, Dyer Island Cruises, also visit Dyer Island, which is home to a colony of African or jackass penguins, as well as Geyser Rock, home to an incredible 50,000 Cape fur seals. But be warned - the seals are great fun to watch - but the smell is not so fantastic!
Some trips also takes in Shark Alley, where Great White sharks can normally be seen gliding through the water. For a great adrenalin rush, try experiencing the Great White shark close up from the protection of a solid cage submerged in the water, which can also be arranged with Dyer Island Cruises or Marine Dynamics.