It is the Awards season in the music and film industries again, so we thought that this would be a good time to have another look at the ratings that our guests have given to the va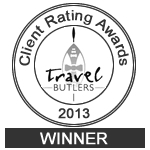 rious places they have stayed at over the past year or so and see who comes top of guest rating polls.
Our number monkey has checked  to make sure that we have not included any places that only have a handful of votes as this would skew the results, and we have also limited it to just 10 awards for 5* lodges and 10 for 3*/4* lodges.
Our heartfelt thanks and congratulations go to all of the award winners as they have all given outstanding service and safari experiences to our guests over the recent months and years.
To all the other excellent safari  lodges that have also looked after our clients so wonderfully, do not lose heart:  out of  hundreds of ratings we have received for safari lodges, we only had a couple of scores under 4/5, and the overall average for all safari lodges was a whopping 4.7/5!
You can see the all of The Top Rated Safari Lodges for 2013 here.
Comments Off

on The Top Rated Safari Lodges 2013