Whale watching is one of the highlights of a trip to South Africa, and especially now, between the months of September and October, daily sightings of these majestic creatures are the norm.  Don't quote me on that, however, as this is wildlife, so NOTHING can every be 100% guaranteed!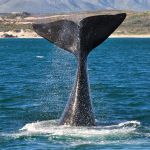 The most common whale to spot during these months is the Southern Right Whale.  This species migrates from the chilly Antarctic Ocean northwards towards the still chilly south coast waters of South Africa, a journey of about 1,000 kilometers, give or take a few (I admit, I have not accurately calculated the distance myself, so I have to take other people's word on this).   Why do they migrate?  Again, I have not personally interviewed a whale to get his or her view on the subject, but the general consensus is that they make the journey to mate, calve and raise their young.  I guess they prefer the slightly warmer water for their mating escapades, maybe this adds to the romance?
You cannot really miss a Southern Right Whale.  Measuring about 18 m in length (so about 60 foot), and weighing in at a hefty 80 tonnes on average, when they breach out of the ocean, they do tend to be pretty visible and make a bit of a splash when they re-enter the water again.   They also have a distinctive pattern of callosities on their heads, and they have no dorsal fin either.  When they breath out, they make a V-shaped cloud above the water – all other whale species exhale in a single column.  All in all, quite a unique breed of whale.
I learnt a lot when I took an early morning boat trip out from Gansbaai with one of our recommended operators,  Dyer Island Cruises (but we also recommend Southern Right Charters too).  The first thing I learnt is that the whale watching boats are not allowed to approach the whales, rather, you have to wait for them to come to you.  I wholeheartedly agree with this, however frustrating it may be when you are actually out on the water – you need to avoid 'tourist' intrusion.
Secondly, I made the mistake of thinking I had to capture everything on camera.  Wrong.  I looked back at my photos afterwards, and because the water was choppy (hint number 3, take sea sickness tablets if you are even marginally prone to feeling ill), I have a whole range of shots of just the sea, then the sky, and I seemingly missed altogether this huge creature when it appeared out of the water.  I did get a couple of shots, true, but I just was not quick enough or professional enough to steady myself and aim my camera, focus and get an award-winning shot.   I definately would have got more out of the entire experience by looking through my eyes rather than through my eyes and then a camera lens.  Hindsight is a marvellous thing.
Lastly, if you are thinking about doing the trip from Cape Town, I would strongly suggest that you have a rethink.  I am not an early morning person, and getting up at 5 am for a 90 minute + drive in order to get to Gansbaai for first tide, which is when the first boats go out, was not an ideal start for me.  Much better to stay the night before in Hermanus or nearby, so that you only have a short drive.   Some operators do go out later morning, but the water can get even more choppier and rougher.
If you don't have sea-legs at all, you can take the easy option and just go for a walk along the cliff tops, or if you are feeling really lazy, my top tip would be to get a table in Bientangs Cave Restaurant, which is carved out of the rockface.  When we were there, we were lucky enough to get a table right at the front of the restaurant, and we sat there for 2 hours, watching a whale continually breach out in the bay.
However you decide to go whale watching, whatever you do, just enjoy it!
Comments Off

on Some Top Tips for Whale Watching Novices