Porini Rhino Camp is located in the Ol Pejeta Conservancy, a 90,000 acre wildlife conservancy situated between the foot hills of the Aberdares and the magnificent snowcapped Mount Kenya.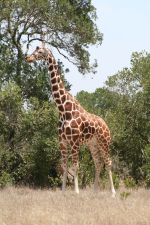 My flight up to the Nanyuki airstrip was an adventure in itself – Safarilink laid on possibly the smallest plane I have ever been in – just a 6 seater. It was more a case of would the plane fit into my bag rather than would my bag fit into the plane, but it was actually quite a fun 45 minutes flight.
We landed, got our bags, and were met by our Porini camp guides, and off we set. We crossed the equator (which in itself was hugely exciting, well, it was for me anyway), and very soon we were in the conservancy.
Our first sighting within just a few minutes of entering the conservancy was a reticulated giraffe – stunning markings on its coat, which are clearly defined, and it very kindly posed for a few pictures. A few km down the road, there were 3 cheetah brothers, lying in the shade with incredibly fat bellies, having just made a kill. A little further on, zebra.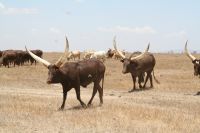 Then a herd of probably the most ferocious cows that I have ever come across, with HUGE horns … yes, the local people still wander through the conservancy (even though it is Big 5 territory) to graze their cattle. Bizarre, but a way of life that is actually quite endearing and certainly unique !
We arrived at the camp, and was greeted warmly by Paul, the manager. My tent was extremely spacious – a double and a single bed, a desk, and an en-suite bathroom with bucket shower, flushing toilet and sink / basin. I love the fact that there was also a pot of detergent just in case I wanted to wash anything – which I did, because the roads are a bit dusty !!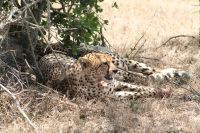 When I got back from my evening drive, I was escorted to my tent (the camp is not fenced, so you cannot walk around after dark on your own), and my guide waited for me to quickly pull on a jumper, and then escorted me back to the boma fire, where a gin and tonic was waiting for me. Very civilised ! My morning wake up call was accompanied by a perculator of hot coffee and some biscuits – again, a really nice touch and very welcome at 6 am in the morning !
The camp is run off solar power, so if you wake up in the night, you need to use your wind up torch, but this does just add to the excitement of being on a true safari. And listening to the sounds of Africa through your canvas tent walls while you are tucked up in your bed is a truly magical experience.
All the meals that I had at the camp were exceptionally good – 3 course dinner, cooked breakfast, buffet lunch – and the service was also superb – there was always someone on hand to charge your phone / camera battery, offer you a coffee, and so on.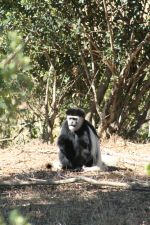 I visited the Chimpanzee Sanctuary during my stay here – the Sanctuary does do a lot of good for these rescued chimps who have been previously abused, so it is worth taking the hour out of your game drive to go there. However, you cannot go into the chimp enclosure at all, so be prepared to view them in their huge enclosures (acres of land) through a wire fence.
For the rest of my game viewing, I also saw the rare Grevys zebra (there are less than 20 on the conservancy), elephant, white rhino, gazelles, waterbuck, impala, monkeys (both vervet AND a black and white colobus monkey), baboons, warthogs … it was a very impressive list all in all, and please bear in mind, I was here for just one night only !!
An extremely enjoyable stay, definately worthy of 2 nights of anyones holiday.