For anyone planning a quick hop up to Victoria Falls during their stay in South Africa for the World Cup, Zambia have just announced that entry visas will only cost $25, as opposed to the normal $50, in a bid to encourage visitors.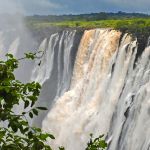 Only a short 2 hour flight from Johannesburg, a trip to Victoria Falls is certainly memorable. One of the 7 Wonders of the World, the Falls are situated between Zambia and Zimbabwe, and with a width of 1.7 km and a volume of 9 million litres per second pouring down a vertical drop of just over 100m they are certainly one of the largest waterfalls in the world.
The sheer noise of the Falls as they cascade over the edge into the deep gorge is deafening, and the misty clouds of spray, occasionally broken by rainbows, are visible from over 30 km away – hence it's local name, Mosi-oa-Tunya, "The smoke that thunders".
The reduced fee will apply to those entering the country with a valid ticket for any of the World Cup matches.
The reduced visa fee will only be in force until July 31.
Comments Off

on Zambia reduces Visa fees for World Cup Visitors