Guests at Sabi Sabi will often look back with fond memories, not only of their safari experience, but also they will remember the stories and African folklore often shared with them by the friendly Shangaan lodge staff and the regular dancers who entertain guests after evening meals.
Most of these staff members come from the rural villages of Huntington, Lillydale and Justicia, which are to the south of the main Sabi Sands Reserve.
Sabi Sabi have been instrumental for nearly 30 years now in not only supporting these communities by employing local people, but they have also created a community programme around education, health, sport and culture.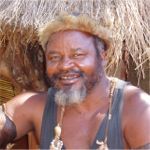 Following on from many guests enquiring as to whether they too can help to support this programme, Sabi Sabi have been in communication with the village elders, and have now set up tours to these communities, so that guests can experience first-hand the rich heritage of the local people. Locals will welcome guests into their daily lives, so that they can have an authentic view on Shangaan life. Visits include the Mazinyane Pre-School and a local sangoma (herbalist)
The tours are led by Sabi Sabi Liaison Officer Lodrick Manyathele, who regales guests en-route to and from the villages with stories of local customs and traditions, and the tours depart inbetween game drives. The tours cost R290 per person, and all proceeds go directly back into the community.