The Pezula Resort Hotel & Spa, in Knysna, has won yet another top international accolade.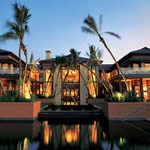 It has been named Best Overseas Hotel Spa by Condé Nast Traveller magazine, and the award was given out at the annual Readers' Travel Awards ceremony held in London on Tuesday 2 September 2009. The awards are viewed as one of the most prestigious travel distinctions in the world, and the ceremony was eagerly attended by many leading players in the travel industry.
Pezula also ranks 46th overall in the magazine's World Top 100 list.
Pezula enjoys a setting that has to be seen to be believed. It nestles in its own golf estate on an exclusive cliff-top retreat, surrounded by an aromatic mantle of Cape coastal fynbos – bushes, trees and wild flowers teeming with birds and insects – while also overlooking a nature reserve, as well as also encompassing a nearby exquisite sheltered beach.
After a game of golf or a walk on a spectacular nature trail, this exceptional hotel is the perfect haven for a stay along South Africa's beautiful Garden Route.