Sightings of spotted hyena are quite rare due to their low numbers, therefore any sighting of these magnificent animals is a special one – but recently guests at Lion Sands River Lodge and Lion Sands Ivory Lodge, in the Sabi Sand Game Reserve, were treated to the most incredible sighting !
One of the rangers had located a den site about a month ago after following an adult female hyena traveling down one of the roads at a rapid pace. She followed the road for a while, then moved into the vegetation.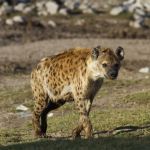 There the ranger found an incredible den site under a large rock, and there were 3 cubs at the site – 2 cubs of approximately 2 months of age and one cub was younger than a month.
Guests at the lodge have had several awesome sightings of these cubs playing around the den site but last week everyone noticed that there were now 5 cubs – 2 tiny cubs have now joined the clan and can be seen peering out of the dens site, still a little nervous to venture out …
These are highly social animals, living in clans whose size is related to the food supply available. The stable core of the clan is females and as a result males disperse.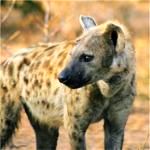 There are separate dominance hierarchies among males and females and females dominate all males. High-ranking females have priority of access to food and to resting sites near the den entrance and as a result they rear more cubs than low-rankers.
All the females in the clan breed and their cubs den together but each female suckles only her own young.
Hopefully in future there will be several more exciting encounters with the growing cubs …