Botswana has experienced abnormally heavy rains during its flood season this year, which has led to exceptionally high water levels in the Okavango Delta.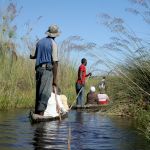 The rain that fell was about 600 mm compared to the usual 400 mm, but it has been the distribution of the rain over the whole growing season which has made the difference. Many marshes are now full of water and will probably remain so throughout the winter, and some riverbeds, which have been dry for decades, are flowing strongly.
This has all had a positive impact on the majority of animals found in the region. The area is expecting a record crop of young antelope this year, which in turn, will have a positive effect on the predator populations in months and years to come.
Some lodges are also going to be offering catch-and-release fishing to guests. Guests will be be able to enjoy relaxing on a boat and soaking in the views while waiting for the fish to bite.
Other activities offered by lodges will include :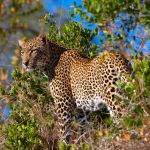 Eagle Island Camp is offering guests a combination of a helicopter and motorboat game-viewing experience. Guests start the trip with a helicopter flight over the main tributaries and then land on a deserted island to enjoy a champagne brunch, returning to camp via motorboat.
Nxabega Okavango Tented Camp and offering scenic boat rides from the camp to the Moremi Game Reserve. After an early breakfast at the camp, guests will depart at 7 am for a full-day boating adventure across the Delta. Guides will point out some of the main attractions including water lilies, reed frogs, dragonflies, unusual antelope species and an array of birdlife. A full picnic lunch will be served on a deserted Delta island. The adventure ends back at the camp in time for afternoon high tea.