Travel + Leisure Magazine USA has just completed its 2009 Worlds Best Service Awards, asking its readers to nominate destinations around the globe that "really deliver".
The results were published in the magazine's June edition, and Sabi Sabi is honoured to have been voted as 7th best hotel overall in the world, the only South African establishment in the World's Top Ten category. Sabi Sabi's Earth Lodge has also made the 2009 Conde Nast Traveller Gold List for Best in Ambience and Design.
In its 30 years of existence, Sabi Sabi has become renowned for succesfully balancing luxury and world class safaris, with genuine African warmth and hospitality – inviting guests to enjoy a personalised home in the bush experience. The caring management and staff play an integral part in the overall Sabi Sabi experience, offering superb service that complements the 5-Star accommodation, exciting Big 5 open Land Rover safaris and superb cuisine.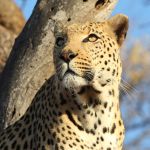 Marketing director, Jacques Smit attributes this international recognition to several factors: "People form the heart of our business. The majority of our team hail from nearby villages and they have an inherent connection with the reserve. They bring a special brand of African hospitality to our lodges that make guests feel instantly at home".
Ask Sabi Sabi's returning guests why they come back again and again, and the answer will be, "for the unforgettable experience made all the more memorable by the warmth and hospitality of the staff." How true !