With sterling having slumped dramatically against the US$ and Euro over recent weeks, many UK holidaymakers have had second thoughts about travelling to the states or skiing in Europe this winter.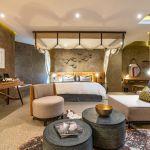 There is some good news for anyone looking to get away from the cold this winter though: the South African Rand (ZAR) has fallen even more sharply than sterling due to the collapse in demand for raw materials from South Africa's mining sector.  This means that whilst last year visitors were getting around ZAR13.5 to the GBP, in recent weeks this has been as high as ZAR19.0 to the GBP and is currently sitting at around ZAR 15.0 to the GBP.
The net impact of this is that a ZAR 1,500 room would have cost £111 in 2007 now costs £100 – a saving of 10%!  Contrast this with the position with US$ prices where a US$200 room would have cost £100 last year and now costs over £130 (a 30% increase), and we can see why last minute booking to South Africa have been so strong over the last month or so.
There are also a lot of special offers available at the moment, including offers for the December /January period and these can offer savings of over 30% on the published price, which when combined with the preferrential exchange rate makes them look very attractive indeed!
There is still some availability over December and the Christmas & New Year Period, and anyone looking to get away in January currently has a wide selection of places available and several special offers to choose from.