The Times is reporting that British model Katie Price, also known as Jordan, and singer Peter André have  renewed their wedding vows at the Thornybush Game Lodge near the Great Kruger Park.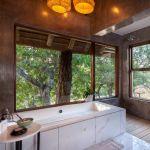 Nic Griffin, chief executive of the Thornybush Group, said the couple appeared very much in love:  "They basically wanted to crush the rumours that they are separating. I can vouch for the fact that they are madly in love.
"Katie loved it here. The bush did something to her … half an hour after they got off their plane I could see her start to relax. She was a changed lady."
The couple and their entourage of seven flew to Thornybush in a private jet two weeks ago. They then jetted to Cape Town, where they spent time at the Grootbos Nature Reserve just outside Gansbaai.