Camp Jabulani in Hoedspruit has won the 'Leading Eco-Retreat' category at the Amarula Best Retreats in Africa Awards 2008, the prestigious travel awards that celebrate and reward the rich diversity of retreats throughout Africa and assist in promoting the continent as a prime destination for first class world travel. The category recognises the retreat that has done the most to embrace and apply ecological and conservation principles, either to its practical running or to enhance the experience of the guests.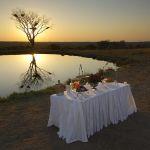 Camp Jabulani is a perfect translation of the African bush, reduced to a classic and elegant environment fit for royalty, but warm enough to make the most "down to earth" feel at home.
With a philosophy to conserve nature while educating guests and locals to its importance, the entire Jabulani camp is built around conservation and ecological principles with a harmonious and pleasing balance between "designer" and "authentic". Originally established to save and sustain a troupe of elephants, it now enables guests one-on-one interactions with one of the most magical creatures in the world.
Each entry, some from as far as Mauritius and Kenya, went through a rigorous judging process in their entered category of choice. A panel of well-established and respected judges from tourism, food and design backgrounds were inspired by the level of entrants at extensive judging sessions in Cape Town and Johannesburg.
Runners up in the 'Best Eco-Retreat' category were Borana Lodge, in the Samangua Valley, Kenya and Grootbos, in Gansbaai, which received Silver and Bronze awards respectively.