Pioneer of Zambian safari holidays
Norman Carr is widely recognized as one of the pioneers of safaris in Zambia, and the innovator of the walking safari concept.
The story started in 1950, when Norman Carr established the first safari camp in the country then known as Northern Rhodesia.
In those days, the definition of an African safari was a 'hunting' experience, but Norman developed the pioneering idea of taking people to look at animals and photograph them rather than to shoot them.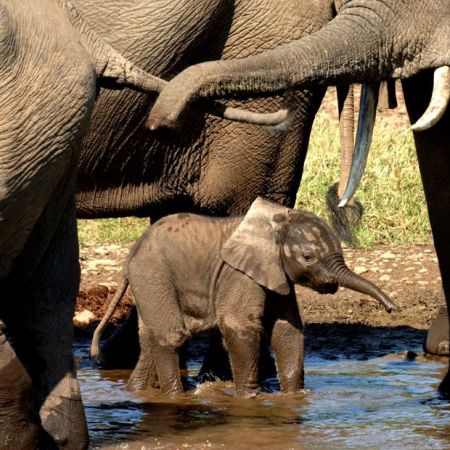 This first safari camp was set up in partnership with Senior Chief Nsefu – the paramount Chief of the Kunda people in the Luangwa Valley. Norman persuaded the Chief to set aside a portion of his tribal land here as a game reserve and built the first game viewing camp which was open to the public. Revenue from the camp was paid back to the Chief. This idea of involving the local people in the management of the wildlife was way ahead of its time.
It was almost 50 years later that conservationists started developing the principles of 'Community Based Natural Resource Management', in other words encouraging the traditional owners of the natural resource to take responsibility for its usage. Norman Carr's pioneering approach proved to be the forerunner to a cornerstone of modern day conservation policy.
The first 35 years saw Norman set up and establish a number of safari camps across the Luangwa Valley and in 1985 he built his final safari camp.
Over the decades, the achievements have been innovative - Norman Carr pioneered the first community based tourism, the first camps, the first walking safaris, the first community projects, the first luxury bush camps, the first all Zambian expert guiding team, the first Zambian female guide, the first majority Zambian Operations Board - the list of firsts is incredibly long and equally impressive.
In 1996, a young Chris Liebenberg continued the legacy after meeting Norman, and as a joint venture set up a camp with his father on the banks of the Chongwe River in Zambia's Lower Zambezi River.
In 2006, Thierry Dalais and his family were inspired by these people and places, and following a boyhood dream to preserve a place by the beach and one in the bush, invested in Chris and Norman's camps.The resulting company is called Time+Tide.
Norman Carr died on 1st April 1997, aged 84, but Time+Tide today still proudly continue the founding principles of what this great man started, and will continue to lead the way in innovation, the use of new 'green' technology, staff training and development and community involvement.