Umlani Bushcamp
Timbavati Game Reserve
Umlani Bushcamp is a classic African safari camp located in the Timbavati Private Nature Reserve, which forms part of the Greater Kruger National Park. The camp offers an authentic wildlife experience in Big 5 territory. View lion, leopard, elephant, buffalo and rhino, as well as over 40 other mammal species and 350 bird species.
Experience the thrill of game drives in open Land Rovers, guided bush walks, and tracking game on foot with highly experienced rangers and trackers. You are guaranteed an adventure of a lifetime in one of Africa's world-renowned unspoilt wilderness reserves. Inbetween game drives and bush walks, you can lounge in the double hammocks around the swimming pool sipping your favourite drink. Alternatively, laze away the day in the spacious bush bar and deck overlooking the riverbed and watering hole.
In the evening you will be treated to pre-dinner drinks in the traditional boma around the fire, followed by one of Umlani's award winning meals in the candle lit dining room, or out in the open riverbed surrounded by flares and cauldron fires.
For exclusive tranquillity there is a tree house about 2.5 km from the camp overlooking a dam, where the lodge can leave you for an hour or 2 with blankets and big comfortable pillows as well as a cooler box with drinks.
Umlani's traditional African reed and thatch huts will not only provide you with all the comforts you need, but will also provide you with an authentic experience of local tribal (Shangaan) architecture and style, which blends in naturally with the environment. Each hut has en-suite facilities including an open-air bush shower fuelled by wood fires. Umlani's philosophy of simplistic luxury and 'getting back to nature' is enhanced by the romance of operating without electricity, so each hut and the entire camp is lit by candle light and oil lamps, providing a warm and romantic atmosphere.
Add To Wishlist
Enquire Now
Show Rates in
Our standard rates for a Thatched Hut
Dates
Price
Basis
Rate Name
Nights
8 January 2017 to 28 February 2017
GBP £ 181 US$ 227 ZAR 2,945 EUR 212
pps
Standard Rate
1+ nights
1 March 2017 to 30 April 2017
GBP £ 224 US$ 280 ZAR 3,645 EUR 262
pps
Standard Rate
1+ nights
1 May 2017 to 30 June 2017
GBP £ 181 US$ 227 ZAR 2,945 EUR 212
pps
Standard Rate
1+ nights
1 July 2017 to 31 October 2017
GBP £ 224 US$ 280 ZAR 3,645 EUR 262
pps
Standard Rate
1+ nights
Prices are on a per person sharing basis (pps).
Special offers for longer stays or when booked as part of a longer itinerary may apply - details on request.
---
All meals; daily morning/afternoon game drives; optional daily bush walk; and all local branded drinks are included. IN ADDITION: There is a Conservation fee of R215 per person (subject to change), payable to the lodge on arrival. For self-drive visitors, there is also a vehicle entrance fee of R140 per vehicle (subject to change), which is payable at the Timbavati Gate (cash or Visa/MasterCard credit cards only). For guests arriving and/or departing via FedAir, the landing/departure fees are not included and are payable directly to the lodge - rates on request.
Children of any age are welcome. Rates available on request. Children under the age of 12 are not allowed on bush walks.
General Information For Guests
All rooms have mosquito netting.
Complimentary bottled water is provided, although the tap water is perfectly safe to drink.
Each room is discreetly lit by a combination of solar and oil lanterns.
There is a curio gift shop and a swimming pool. The bar/deck area overlooks a waterhole, and there is a nearby tree house for game and bird watching.
Babysitting and a laundry service can be arranged - please speak to the Lodge Manager.
Breakfast is served after the morning game drive from 09:00. Lunch is served from 13:30 and dinner from 19:30.
Popular Alternatives to Umlani Bushcamp
These are the top properties booked by people who considered staying at Umlani Bushcamp, but for one reason or another booked a different property. It may have been that Umlani Bushcamp was not available on the nights they wanted to stay, or they decided that somewhere else was better suited to their budget or itinerary.
If you're not sure which place might be best for your own trip then either give us a call or get in touch via the website, and we'd be delighted to run through the options with you.
Add To Wishlist
Enquire Now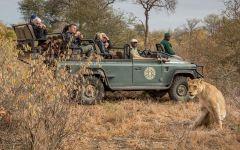 Location