The Ravenala Attitude
Mauritius
Situated on the north-west coast of the tropical island of Mauritius, the 4* Ravenala Attitude is an all-suite beach hotel. The hotel is a mix of colonial heritage, contemporary design with tropical accents and genuine Mauritian art de vivre. Here, indoors and outdoors merge together in harmony.
Guests can enjoy a wide range of land and water activities (at sea, on the river or in the 3 pools), including complimentary floodlit tennis, windsurfing and water-skiing plus there is the spacious Spa Attitude and the Otentik Attitude experiences for a total immersion in the local culture.
In the evenings, the hotel hosts live music, Sega shows, pool parties and there is also a night club.
The 272 suites are refined and uncluttered, and offer a true reminder of the islands' way of life.
There are Couple Suites and Executive Beachfront Suites, both a superb 64 square metres in size, and for families there are spacious Suites measuring 72 square metres, with 2 bedrooms separated by a screen. The Executive Beachfront Suites are set aside in an Adult Only part of the resort.
The hotel offers, for half-board and all-inclusive guests, a 'Dine Around' experience in 7 of the 10 restaurants. Each restaurant has its own identity found both in the décor and on the plate. For guests staying in the Executive Beachfront Suites, the dining experience is extended to 9 restaurants.
Show Rates in
Our standard rates for a Couple Suite
Dates
Price
Basis
Type
Nights

7 January 2020

to

31 January 2020

GBP 175

USD 228

ZAR 3,150

EUR 205

per person sharing
Standard
1+ nights
Prices are on a per person sharing basis (pps).
Special offers for longer stays or when booked as part of a longer itinerary may apply - details on request.
---
Rates Include
All Inclusive 'Culinary Voyage' basis. Includes 8 of the 10 restaurants for adults (except for guests staying in an Executive Beachfront Suite which then includes Lime Restaurant as well); a selection of local beverages including water, beer, tea, coffee, soft drinks, a selection of wines, locally manufactured alcohols and spirits (served from 11:00 to 23:00 at the bar); tea/coffee and sweet local goodies served from 16:00 until 18:00; local snacks served with evening drinks; in-room tea/coffee facilities; picnic baskets for guests going out on day excursions; a 20% discount on one Mauritian massage (for bookings between 09:00 and 14:00 for guests staying 5+ nights); and meals at any other Attitude hotels (subject to availability).
---
Children Policy
Children of any age are welcome. Rates available on request.
---
Special Offers
Special Offer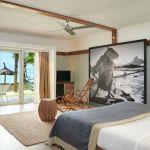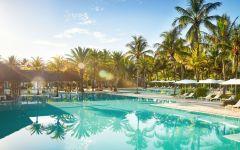 Code: M-04709
---
Save 10% when you stay at The Ravenala Attitude in Mauritius.
Valid: 1 February 2019 - 31 January 2020.
Book Before: 30 January 2020.
Example price for 2 people staying 1 night from:
Example price based on staying in a Couple Suite between 7 January 2020 and 31 January 2020.
This offer is combinable with the Honeymoon and Civil Union Offer.

Offer is applicable for child/teen sharing and in own room.
Honeymoon Deal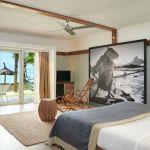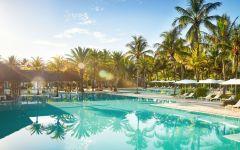 Code: M-04710
---
Stay for 7 nights at The Ravenala Attitude in Mauritius as part of your honeymoon and recieve complimentary accommodation for the bride. Also applicable for guests celebrating every 5th wedding anniversary.
Valid: 1 February 2019 - 31 January 2020.
Book Before: 24 January 2020.
Complimentary accommodation for the bride on an all inclusive basis. Groom pays the single rate.

A wedding certificate not older than 12 months is required at check-in.

Offer is applicable for couples celebrating every 5th milestone of their anniversaries (i.e. 5 years,10 years and every additional 5 years).

For wedding anniversaries, a certified copy of the marriage certificate/pacs must be sent at the time of booking and presented to the hotel upon arrival.

The date of the wedding anniversary must not exceed 3 months before or after the stay at the hotel.
At the mini club Ayo Le Dodo, your children will enjoy safely their holiday, having fun with the caring and careful Family Members. The club is open for children aged 3 to 12 years of age, and is open every day from 09:00 until 23:00.
The special teenagers' hideout, Teens Republic will provide, under discreet supervision, entertainment for the older ones. The club is for children aged between 12 and 18 years of age.
Reload Map
The Ravenala Attitude Location.
General Information For Guests
All rooms have either a balcony or terrace, a telephone, a plasma TV, a mini bar, tea/coffee making facilities, an electronic safe, a hair dryer, and air conditioning.
The resort has 10 dining venues in total. For guests staying on the 'Culinary Voyage' package, dining at 7 of the 10 venues are included in the rate - these are Mozaik, Madame Ming, A Tavola, O, The Bistrot, the Beach BBQ and Kot Nou.andnbsp; For guests staying in an Executive Beachfront Suite, dining at Lime is included as well.andnbsp; Dining at the Riviera is an additional cost for all guests.andnbsp; Finally, Taba-J is a Mauritian take-away streetfood concept set up on the beach from stalls which serves lunch only between midday and 17:00 and is an additional cost.
3 of the dining venues are adult only so you need to be over 18 - these are Riviera, Lime and The Bistrot.
The resort also has 6 bars.
The spa has 10 massage rooms, a sauna and a hammam. There is also a fitness room, a cardio room, a floodlit tennis court, an open platform for Zumba and aerobics, a beach-volley court, a petanque pitch and table tennis facilities.
There are 2 swimming pools.andnbsp; The watersports include canoe, stand up paddle, pedal boats, windsurfing, water skiing, banana rides, parasailing.andnbsp; Small and big game fishing can also be arranged. Some activities are at an additional cost.
Popular Alternatives to The Ravenala Attitude
These are the top properties booked by people who considered staying at The Ravenala Attitude, but for one reason or another booked a different property. It may have been that The Ravenala Attitude was not available on the nights they wanted to stay, or they decided that somewhere else was better suited to their budget or itinerary.
If you're not sure which place might be best for your own trip then either give us a call or get in touch via the website, and we'd be delighted to run through the options with you.