Nambiti Private Game Reserve
The 5* Nambiti Plains lies nestled within the smouldering beauty of a picturesque landscape of the spectacular Nambiti Game Reserve, a private Big 5 bush retreat and game conservancy set on 10,000 hectares of malaria-free bushveld in KwaZulu-Natal. The reserve is just 3.5 hours from Johannesburg and 2.5 hours from Durban.
Imagine watching the sun set over the horizon whilst you capture the moment of a pride of lions stalking their prey or watching a rhino strolling to the water hole for an afternoon drink or the buffalo silhouetted against an aging sky. Admire the leopard with its beauty and graceful strength. Watch the elephant family as they make their way over the plains, or watch as the cheetah, lithe and agile crouches, patiently waiting.
The abundance of natural water, perennial rivers and beautiful waterfalls on the Sundays River also makes Nambiti a unique birding sanctuary.
Each suite is designed with the utmost care and detail to impress and surpass the expectations of even the most discerning guest. Each suite is spacious, underfloor heated and completely secluded. With 180 degree panoramic views from the bath, outdoor bush shower, and private wrap around deck, guests can immerse themselves in the pure luxury that is Nambiti Plains.
The main lodge is imaginatively weaved and constructed in and amongst the indigenous forest, perched on the waterhole edge. Relax with a cocktail on the deck or at the Nambiti Plains Bar or take a dip in the swimming pool and watch as the animals quietly drink and bath in the waterhole. In the evenings look forward to 5* dinners in the boma around the African fire and feel the beat of Africa as it gently and rhythmically moves through the night.
Show Rates in
Our standard rates for a Suite
Dates
Price
Basis
Type
Nights

1 January 2022

to

10 December 2022

GBP 253

USD 303

ZAR 5,053

EUR 296

per person sharing
Contracted FIT Rate
1 to 6 nights

1 January 2022

to

10 December 2022

GBP 253

USD 303

ZAR 5,053

EUR 296

per person sharing
Contracted FIT Rate - Pay 5 Stay 7
7+ nights

11 December 2022

to

10 December 2023

GBP 261

USD 313

ZAR 5,215

EUR 305

per person sharing
Contracted FIT Rate
1+ nights
Prices are on a per person sharing basis (pps).
Special offers for longer stays or when booked as part of a longer itinerary may apply - details on request.
---
Rates Include
All meals (apart from lunch on the day of arrival and departure); tea/coffee; 2 game drives per day; game drive snacks and sundowner drink; the Rhino Conservation Levy; and a laundry service are included.

PLEASE NOTE: All other drinks are NOT included.
---
Children Policy
Children aged 12 years and older are welcome. Rates available on request.
---
Special Offers
Free Nights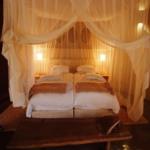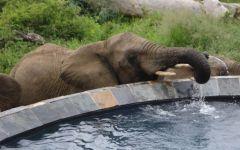 Code: SAF-5411
---
Stay 7 nights for the price of 5 at Nambiti Plains Private Game Lodge in Nambiti Private Game Reserve. Full Board basis.
Valid: 1 January 2022 - 10 December 2022.
Book Before: 3 December 2022.
Example price for 2 people staying 7 nights from:
Example price based on staying in a Suite between 1 January 2022 and 10 December 2022.
Guest Rating: 5.0 / 5.0 based on 4 ratings

Namibiti Plains was amazing and the whole experience was magical. We were made to feel very welcome and as the numbers are kept low we felt very spoilt. The staff were very considerate to the needs of our family and the attention to small details made the whole experience more enjoyable. We would definitely recommend this lodge.

C PEARSON

Nambiti was excellent..The safari etc.. was fabulous i have 2,000 photos including elephants drinking from the pool.

M BUSBY
Reload Map
Nambiti Plains Private Game Lodge Location.
Directions For Drivers
The Nambiti Conservancy is situated 25 km east of Ladysmith and is only 3.5 hours from Johannesburg, 2.5 hours from Durban and 40 minutes from the Drakensberg.
Directions from Johannesburg: Head for Ladysmith on the N3. Once you have entered KwaZulu-Natal via Van Reenen, look out for the Ladysmith Toll off-ramp (at the bottom of Van Reenen's Pass). Turn left and drive toward Ladysmith on the R103. When you arrive in Ladysmith, drive straight through, following the N11 road to Newcastle. Continue on this road for approximately 20 km. Ignore the signs that say Nambiti as these will lead you to the South Gate. Continue driving until you see a sign that says Elandslaagte/Glencoe/Dundee and turn right here. You will then be on the Glencoe/Dundee road - the R602. Travel for approximately 2.3 km. Turn right at Elandslaagte - P555 (dirt road). Cross the railway line and follow Elandslaagte sign for 200m. Turn left following the Elandslaagte sign/Memorial Gate. Drive 3.8 km to Nambiti Game Reserve North Gate.
Directions from Durban: Head towards Ladysmith on the N3 and take the Ladysmith/Bergville Toll Off Ramp. Turn right and head towards Ladysmith. When you arrive in Ladysmith, follow the directions as above.
Guests are required to call the lodge on +27 (0) 71 680 4584 or on +27 (0) 87 170 0716 once they reach Ladysmith.
General Information For Guests
All rooms have overhead fans or air conditioning, a hair dryer, mosquito nets, a mini bar, tea/coffee making facilities, wrap around deck, and floor to ceiling windows and sliding doors. The Honeymoon Suite also has an outdoor shower.
Wi-Fi is available at the main lodge, and there is mobile phone reception too.
There is a swimming pool.
Fishing (on a catch-and-release basis) can be arranged as an additional activity inbetween game drives during the summer months.
Popular Alternatives to Nambiti Plains Private Game Lodge
These are the top properties booked by people who considered staying at Nambiti Plains Private Game Lodge, but for one reason or another booked a different property. It may have been that Nambiti Plains Private Game Lodge was not available on the nights they wanted to stay, or they decided that somewhere else was better suited to their budget or itinerary.
If you're not sure which place might be best for your own trip then either give us a call or get in touch via the website, and we'd be delighted to run through the options with you.