Amanzi Camp
Lower Zambezi National Park
Amanzi Camp is situated directly on the banks of the Zambezi. The name "Amanzi" means water in the local Tonga language. The intimate position with the Zambezi proves Amanzi is a fitting name.
The game drives are done with 4x4 vehicles seating a maximum 4 guests, and can be taken in the morning and afternoon. Enjoy the complimentary snacks while admiring the views and the variety of wild animals. From lazy lions, to buffalos, rhinos, and herds of elephant, to mention a few, let the experienced and knowledgeable guides teach you about their natural habitat, while giving you some truly picturesque moments to remember.
Boat safaris and canoeing on the mighty Zambezi River are excellent for game viewing, with plenty of wildlife often seen on the banks of the river. Elephants are especially abundant at the waters edge, usually drinking and bathing – providing you with plenty of photo opportunities. End the day by watching the sun set with refreshing sun-downers in hand.
For the keen fishermen, late August to mid November is the best time to fish on the Zambezi River - although the tiger fish and other species can be caught throughout the safari season.

There are 4 traditional safari tents, approximately 500 sq ft in size, positioned on a raised wooden deck. The tents are generously spaced allowing the game to wonder around the camp freely. All tents have either 2 teak double beds or 1 king-sized bed placed within a well designed mosquito net, and are connected with a raised walkway to the main area.
There is also a family unit which is essentially 2 of the tents back to back allowing for a 2 bedroom, 2 bathroom family tent perfect for groups with young children. It also includes a spacious sitting area and a private wooden deck with a stunning view of the Ngwenya Channel.
The camp is intimate yet private. The main area has a swimming pool, deck area, lounge and bar, all of which offers stunning views of the mosaic of islands that are home to a group of majestic elephant bulls.
Featured Special Offer saf-04512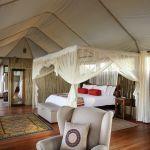 Stay for 4 nights for the price of 3 at Amanzi Camp in the Lower Zambezi National Park.
Valid: 1 May 2019 - 15 November 2019.
Prices on request
Show Rates in
Our standard rates for a Safari Tent
Dates
Price
Basis
Type
Nights

16 November 2018

to

30 April 2019

closed / not available

1 May 2019

to

31 May 2019

GBP 827

USD 1,050

ZAR 14,055

EUR 926

per person sharing
Standard
1+ nights

1 June 2019

to

31 October 2019

GBP 1,142

USD 1,450

ZAR 19,409

EUR 1,279

per person sharing
Standard
1+ nights

1 November 2019

to

15 November 2019

GBP 827

USD 1,050

ZAR 14,055

EUR 926

per person sharing
Standard
1+ nights
Prices are on a per person sharing basis (pps).
Special offers for longer stays or when booked as part of a longer itinerary may apply - details on request.
---
Rates Include
All activities (game drives, walking safaris, boat trips, fishing, canoeing and birding); meals; beverages (excluding premium brands); and a laundry service are included.
---
Children aged 12 years and older are welcome. Rates available on request.
---
Special Offers
Free Night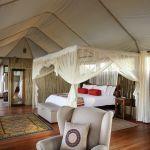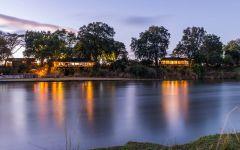 Code: SAF-04512
---
Stay for 4 nights for the price of 3 at Amanzi Camp in the Lower Zambezi National Park.
Valid: 1 May 2019 - 15 November 2019.
Park Fees are applicable for the last night.
Reload Map
Amanzi Camp Location
General Information For Guests
All rooms have tea/coffee making facilities, a fan, a room safe, mini bar, hair dryer and a complimentary laundry service is also provided.
The main area has a pool, bar and complimentary internet access.
24 hour battery power is also provided.
Activities on offer include game drives/night drives with a 2-8 guests per vehicle capacity, walking safaris into the Kulefu woodlands and surrounding areas, bird watching, day trips down to Mapata Gorge and boating and canoeing trips along the banks of the Zambezi River with the chance for some catch and release fishing.
Amanzi is located approximately 2 kilometers down river of Anabezi.
Amanzi is closed during the rainly season (December, January, February and March).
Bush Walks / Walking Safaris
Guided walks usually last between 2 and 3 hour, and cover around 4 km. The walk may involve walking over uneven terrain that may contain dangerous wildlife in potentially high temperatures. Guests may need to move quickly and for a sustained period through rough bush terrain if instructed to do so by their guide.
Regardless of age, the final decision on whether a guest can join a guided walk remains with the guide and lodge manager.