COVID-19 has fundamentally changed the way we live, and travellers are having to adjust to the new protocols and procedures that have been put in place across the globe as international travel resumes.
Many of the destinations that we work with are already open or about to open to international visitors again, and all properties and transport providers across Africa are working within the Covid-Safe guidelines set by their governments and the World Health Organisation (WHO). In all instances, the well-being of both guests and staff is first and foremost in everyone's minds, and care is being taken to ensure guests still enjoy a first class holiday experience.
There have been plenty or articles published elsewhere about the changes to international flights as a result of the Covid-19 pandemic, so here we will focus on what you might expect once you arrive in Africa.
Going on a Safari
The good news is that the safari experience will be virtually unchanged as a result of Covid-19 protocols. If you are going on a Big 5 safari as part of your long-awaited holiday, you are natually 'social distancing' – which is a huge benefit from a Covid point of view!
Safari lodges generally only have a small number of rooms, so you are not in an environment surrounded by hundreds of other guests. The lodges are also generally pretty remote, and the staff tend to stay 'on-site' for up to 3 months at a time, so they also spend long periods social distancing from the rest of the world.
The main attractions of a safari are obviously the game drives and guided safari walks. This means you will be spending up to 6-8 hours outside in the fresh air, and more often than not the vehicle you are in could be miles away from the nearest other vehicle.
Out on game drives, some lodges are going to restrict the number of guests per vehicle to just 4, leaving a full row between people; others may have to put 6 on a vehicle; but we very much doubt you will be going out on a drive with as many as 9 or 10 on a vehicle. You may find even that you have a vehicle all to yourself, depending on the number of guests and number of vehicles available!
Between game drives, vehicles will be thoroughly cleaned and disinfected, and it goes without saying that guests will not be allowed to use the guide's wildlife books and binoculars whilst Covid precautions are in place.
If you are travelling in East Africa and have a driver-guide for the whole of your trip, then you are not sharing the game vehicle anyway with anyone else.
Overall, Covid-19 does not really impact on the all-important game-viewing part of your safari at all – if anything, being out with fewer other guests will enhance the whole experience.
That is not to say there will be no changes for guests staying at a safari lodge. You will not be greeted by a friendly handshake on arrival, and the welcoming smile will most likely be hidden behind a face mask.
Some lodges are adopting a guest temperature check on arrival (normally with a digital handheld temperature scanner aimed at your forehead) and other lodges may insist that this temperature check is done daily. Staff temperatures will also be taken and checked on a daily basis.
You may have to carry your own luggage to your room, but if you cannot, then the member of staff will disinfect your luggage handles before taking the bags for you.
Rooms will be cleaned/disinfected thoughly between departures and new arrivals, and you most likely will be allocated a dedicated team of staff, such as a waiter, guide/tracker team, and housekeeper. This will create your own 'safari bubble' with these staff members to ensure interactions are limited to just a small handful of people.
Each member of staff will wear a face mask and maybe gloves too, however should you really not want anyone coming into your room to clean it on a daily basis, just let the lodge know. The management team are there to make your stay as comfortable and as pleasant as possible.
Mealtimes will not be communal, and where possible the lodge will provide individual tables for each room. Of course, if you are a family or a group of friends travelling together and you want to eat together, that can be arranged. If the lodge cannot provide individual tables, then guests will be seated at an appropriate distance from each other along a communal table.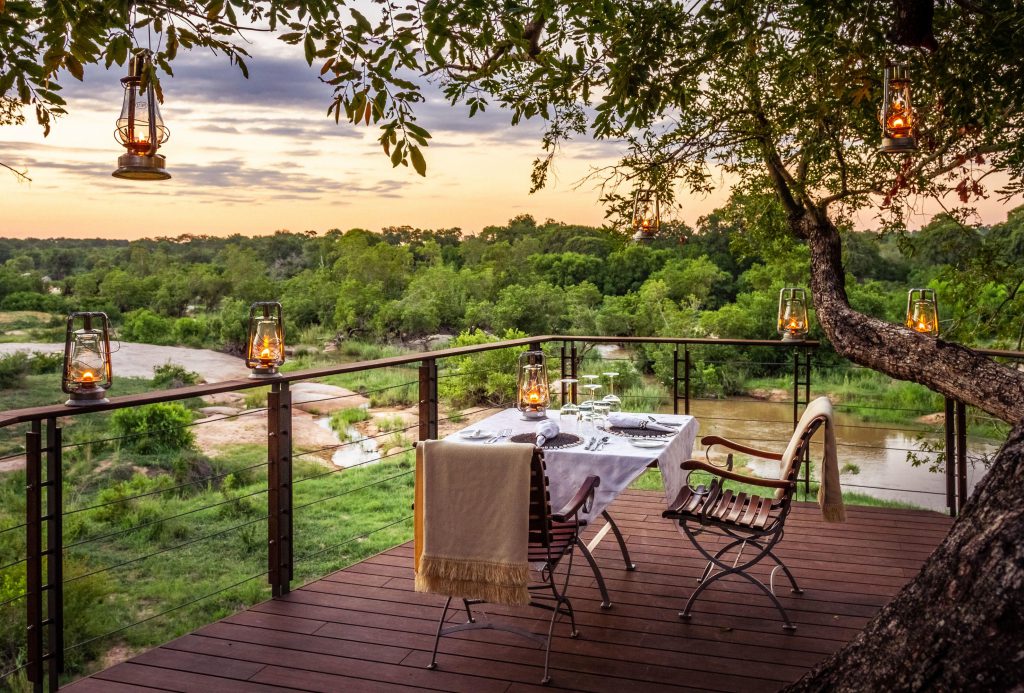 Another thing to change at meal times will be a switch to plated meals instead of buffets. You may also find that meal times are staggered at the larger lodges and held also in different locations, to avoid too many people in one area at any one time.
One tradition that is unlikely to change is sitting around the camp fire in the evening to exchange stories about the day's adventures. Just expect your seats to be set apart from each other, so softly spoken people may need speak-up to make sure they can be heard!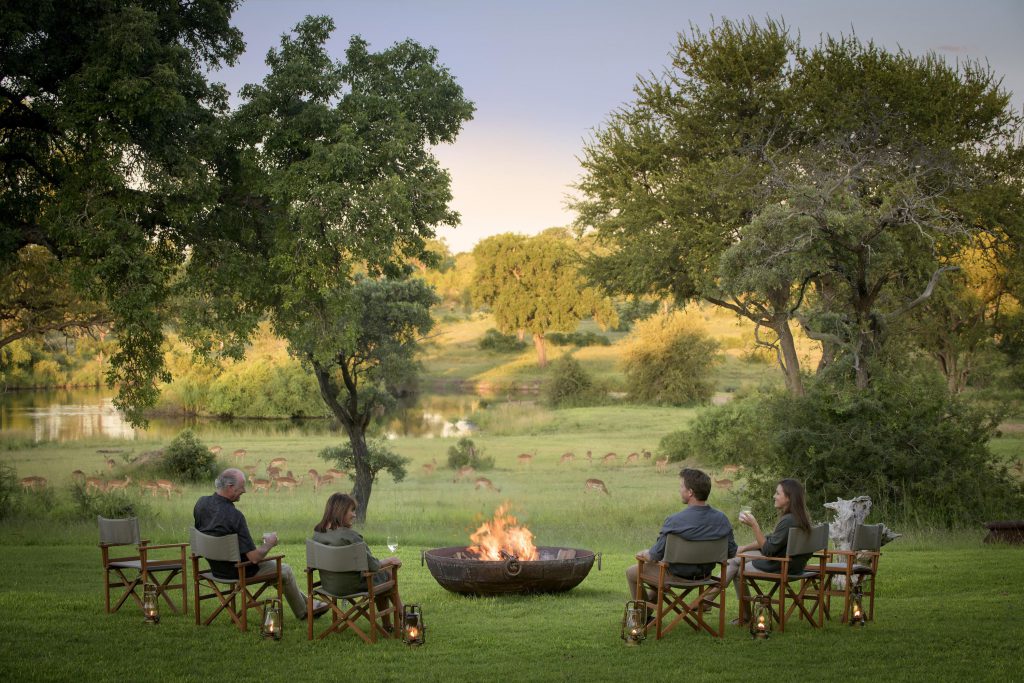 Staying at the Beach
For many people, their safari is often part of a longer safari and beach holiday, and rest assured that the beaches of Mauritius and Seychelles are far quieter than the overcrowded beaches of the UK and Europe.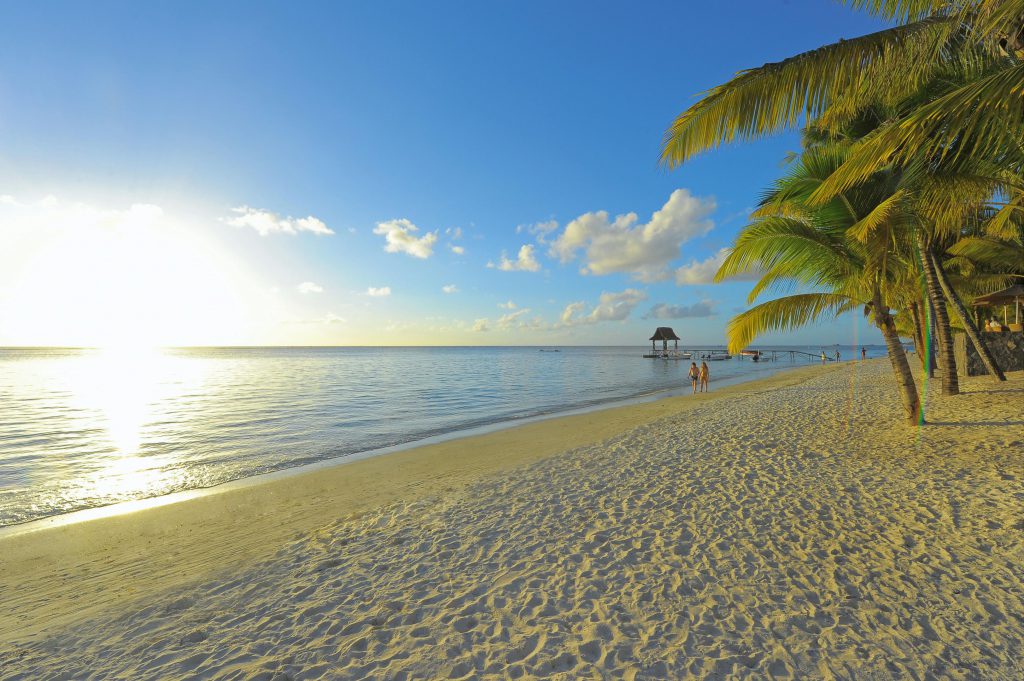 A lot of the above protocols will also be adopted by staff in the beach resorts, but of course, the number of other guests around you will probably be a bit higher so you do need to be more aware of social distancing.
Sun loungers around swimming pools will be distanced accordingly, and gyms/fitness centres may limit the number of guests allowed in at any one time.
Spas will generally be open, but treatments may be limited.
Guided tours may be limited in terms of the numbers permitted per tour, so prebooking anything would certainly be advisable to save disappointment, especially if you only have a limited number of days anywhere.
But depending which tropical island or beach you choose, what you might have is an endless stretch of nigh-on deserted white sand to walk along!
Cities and towns
Any visitors to cities and towns in Africa will find they need to take the same precautions that they do at home. Laws and customs do vary across the continent, however we would advise that you travel with a face mask in urban areas even in countries such as Tanzania where they are not required by law.
Transfers and light aircraft
If you are taking a transfer, you may not be offered a refreshing towel by your driver, instead you may be offered hand sanitiser instead.
Your driver may want to clean your luggage handles before loading your bags into his car, otherwise you can of course do this yourself.
All the transfer vehicles will have been cleaned throughly before picking you up, with a particular emphasis on door handles and window buttons.
Your driver will be wearing a face mask, of course and he may politely request that for the duration of the transfer, you too wear a mask.
The same applies to light aircraft transfers as well, of course.
And Finally…
Africa has a vast wealth of amazing destinations that are largley unaffected by the coronavirus pandemic, and Travel Butlers, along with our friends and partners across Africa, are committed to ensuring travel to this remarkable continent can resume safely.
Our partners are all putting stringent measures in place to ensure that the health and safety of our clients is not compromised in any way, and all the holidays we book for our clients are completely tailor-made and have full financial protection under the ATOL or ABTOT scheme to give you complete peace of mind.
Tourism is an essential part of the conservation effort across Africa, and the travel suppliers and safari lodges across the continent are keen to welcome back visitors from overseas.
Africa really could be the perfect socially distanced, COVID-secure, and environmentally friendly conservation destination for your family safari or romantic getaway in 2021.
To start the process you can give us a call on 01932 428380, enquire via the website, or email us at info@travelbutlers.com.
We're ready when you're ready.
Comments Off

on Safari Travel In The Age Of Covid-19