Aanari Hotel sits in the heart of Flic en Flac, a holidaymaker hotspot in Mauritius. Hugging the West Coast of the island, the beach is bright, white and wide, with plenty of space to stretch out in the tropical sunshine and watch the local kids playing football on the sand. The whole town breathes a lighthearted holiday feeling, with small live music bars, coffee shops, rum shacks and restaurants lining the street opposite the beach. It's an ideal base on the island for anyone after a more lively experience in Mauritius.
Flic en Flac isn't for everyone, and if you're in the market for a quiet castaway break in Mauritius, this isn't the beach for you. However, it has a charm all of its own with plenty of local flair. The crowd here is slightly younger than you'll find in most Mauritian resorts, so there's a unique energy to the place that isn't so easy to find elsewhere on the island. You'll find a vast range of restaurants, a casino, a supermarket and a shopping complex right on your doorstep. For fun as well as sun, it's a real winner.
The hotel itself is a calm little oasis amidst the hub of Flic en Flac activity. It has a laid back and welcoming aura, with design influenced heavily by Mauritian tradition and its Hindu heritage. There's almost something Balinese about the place. Natural materials have been used wherever possible, giving the hotel an earthy, organic atmosphere. The outdoor bar and dining area are filled with tropical plants, coconut trees and tiny ponds, making it brilliant for long, lazy breakfasts and indulgent afternoon cocktails.
The swimming pool is small and surrounded with a smattering of comfy loungers. It can get a little crowded as the day goes on, so it's best to get there early. However, while the pool may be on the small side, it's perfect for a refreshing plunge. And if you can't nab a spot by the pool, do not despair. There are plenty of other chilled out pockets across the hotel, with a couple of sun beds scattered here and there amongst the shady rooftop gardens. The beach is merely footsteps away, so you can spend your days happily hopping between the two.
Flic en Flac is awash with local companies offering island-hopping trips and sightseeing tours, making the Aanari Hotel an excellent strategic base for exploring Mauritius. The tours are affordable as well as exciting, giving you the chance to visit rum distilleries and sugar factories, see the stunning Seven Coloured Earths, take a walk around the Sacred Lake and drop in on some unbelievable islands, such as the Île aux Cerfs and Îlot Gabriel. Sundowner cruises leave every evening while dolphin-spotting trips leave each morning. Suffice to say, you won't be short on options.
The rooms themselves range from basic to brilliant, and it's definitely worth paying for the upgrade. While the Superior and Deluxe are kitted out with everything you'll need to make your stay comfortable, the 15 Clubrooms come complete with balconies and a more generous sense of space. If you're planning on spending some real time in your room, opt for a Club and you won't be sorry. They're far more inviting places to while away some sun-drenched time. Clubrooms also include free entrance to the spa area of the hotel. This is a major perk.
The spa area is a dreamy patch of the Aanari Hotel. Up on the rooftop, far from the bustle of the street below with views across to the mist-swirled hills, there's no better place to relax. As well as a full-range of massages and body treatments, the spa areas boasts 2 jacuzzi baths with panoramic backdrops. Grab something bubbly to sip on, head for the spa and spend a few hours in jacuzzi-soaked bliss. While Clubroom guests can use the jacuzzis free of charge, other room types will need to book a treatment or pay an entrance fee to the area. It's worth it either way. Trust me.
Evenings are an upbeat affair at Aanari, with live music playing almost every night and a really varied buffet to boot. The theme of the buffet changes on a weekly basis, so if you stay for seven nights you're guaranteed a surprise every day. Breakfast is beautifully laid-back, with a wide range of choices and local coffee that will certainly set you up for the day. The quality of cuisine across both dinner and breakfast is unwaveringly tasty, so you're sure to eat well. Don't forget to try the local favourites – the coconut tapioca is to die for.
So, while you might not get postcard-perfect peace here, the beach is inviting, the water is warm and the hotel is brilliantly affordable. If you're after serenity, you'll need a different stretch of sand, but fun-loving couples, groups of friends and good-time travellers will have a blast staying here. While Flic and Flac might be a love or hate destination, Aanari is a great choice for all. It's a calm hideaway in a otherwise hedonistic setting, and a lovely place to rest your head.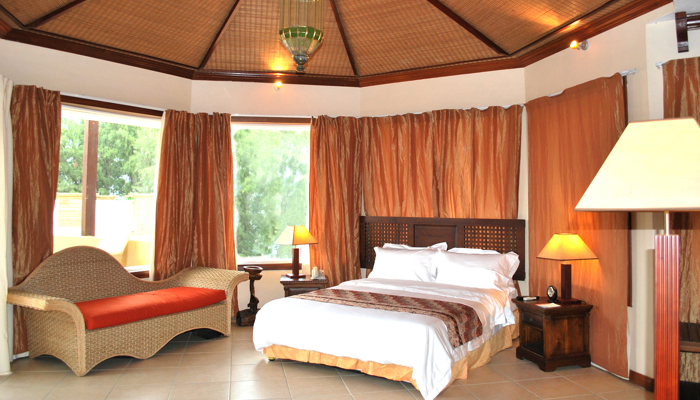 Comments Off

on Aanari – A Calm Hideaway