Following the very moving Ebola appeal that was aired on all major TV channels in the UK last night, we have been contacted by a number of clients asking the same questions: should I cancel my trip to Africa? It is easy to understand the worry and distress that the Ebola coverage is causing in the UK, however Africa is huge and the whole of Southern and East Africa is literally thousands of miles away from the outbreak and all the countries that we book for our clients are considered safe from the disease.
To put this into context, the outbreak in West Africa is over 3500 miles away from Kenya, Tanzania and South Africa, and over 3,000 miles from Botswana and Namibia – London is about 3000 miles from the affected area, so many of these places are further from the centre of the outbreak than the UK.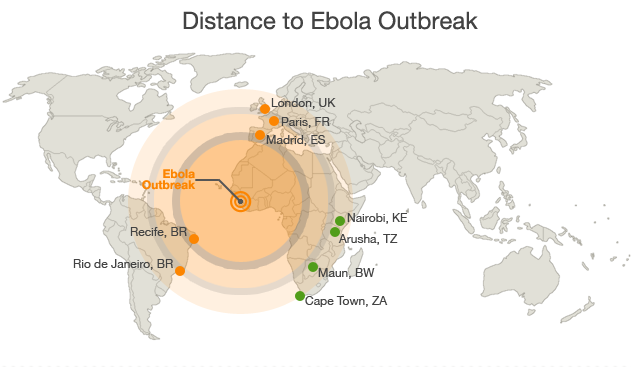 Whilst the situation in West Africa is very serious, the disease is not airborne and does not spread quickly or easily – a fact that can be confirmed when we consider that the outbreak remains contained in Liberia, Guinea and Sierra Leone.  Of course, it is true that it did extend briefly into Nigeria, however the country responded quickly to the challenge of containing the disease and safely treating those suffering from it, and  Nigeria was declared free from Ebola on the 20th of October.
In fact in terms of the geographic spread of the disease, the situation has not changed much since early August.  Our thoughts and prayers remain with all those currently fighting the the outbreak in West Africa, however Southern and East Africa are a very long way from the outbreak and are completely unaffected at present.
So is it still safe to travel to Africa or should you consider cancelling your trip? We would suggest that if you are travelling to Kenya, Tanzania, South Africa, Botswana, Namibia, or any of the other countries in Southern or East Africa, you can consider these as safe from Ebola as anywhere else in the world might be.
Comments Off

on Ebola Outbreak: Should I Cancel My Trip To Africa?