This week, the British government changed its travel advice for Kenya and for the present time is recommending avoiding non-essential travel to Mombasa Island and an area between Mtwapa, north of Mombasa and Tiwi, south of Mombasa.
You can read the updated travel advise here, however we have been asked by a number of clients to clarify exactly what areas are affected, and if this will have any impact on their holiday plans.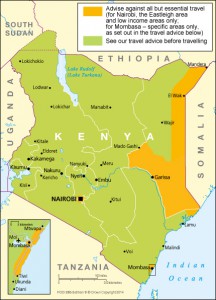 Many people think "Mombasa" refers to all the beach resorts on Kenya's coast but this is not actually the case. Mombasa is actually an island (as can be seen in the attached map – click to enlarge) and is the commercial centre, port and city. Whilst there are some hotels on the island, it is not a beach resort and the overwhelming majority of visitors to the are stay in the beach resorts of Bamburi, Nyali, Diani etc which are not actually in Mombasa but are on the mainland.
The British Foreign & Commonwealth Office ('FCO') advisory covers the area from Mtwapa to Tiwi (see map below) and this includes the beach resorts of Shanzu, Bamburi and Nyali to the North as well as Likoni and Tiwi to the south where a number of the leading beach resorts are located.
Diani and Galu on the south coast are not affected and visitors continue staying at all the hotels there as usual. The airfield of Ukunda near Diani, which we use for Pinewood Village and the beach resorts along Diani beach, is also not included in the non-essential travel advisory.
The only hotel in the affected area that we use is the Amani Tiwi Beach Resort, and we are arranging for guests currently booked to stay there to receive a complimentary upgrade to a hotel on Dani beach.
The main Mombasa Airport (Moi International) is not affected, and international airlines (including BA, KLM, and Air Kenya) continue to operate their scheduled flights as normal to Nairobi and Mombasa.
The present FCO advice against non-essential travel can be seen here and is summarised as follows:
Avoid all non-essential travel to the following:
Areas within 60km of the Kenya-Somali border
Kiwayu and coastal areas north of Pate Island
Garissa District
The Eastleigh area of Nairobi
Low income areas of Nairobi, including all township or slum areas
Mombasa island and within 5km of the coast from Mtwapa creek in the north down to and including Tiwi in the south (this area does not include Diani or Moi international airport)
The change to the British Travel Advisory on Kenya comes about following recent incidents of small home-made explosive devices being set off in Mombasa and Nairobi by the Al Shabaab terrorist organisation resulting in a number of deaths and injuries to Kenyans.
These attacks have taken place at remote towns near the border with Somalia or in the slums of Mombasa and Nairobi at public bus terminals, at bars or eating-places in low income housing areas, on public buses heading out of Nairobi coming from one of the big bus terminals, and with the latest yesterday in a crowded market place near the Eastleigh area of Nairobi.
These incidents have been tragic for those Kenyans who were killed or suffered injuries and for their families and friends but no foreign tourist visitors were affected and these incidents happened mainly in areas where tourists normally do not venture. They tend to be places where there is a less effective security presence unlike the airports or international hotels where enhanced security has been in place for some time. Such incidents have never affected any of the areas where we operate safaris in Kenya's well-known wildlife parks and game reserves.
In accordance with the advice of the security agencies, including the British FCO, we totally avoid any areas subject to travel warnings or non-essential travel advisories.
We have already been in touch with clients who are directly affected by the current change in travel advice, however if you have booked a trip with us and are concerned about the arrangements then please to get in touch with your contact at Travel Butlers who will be happy to review things with you.
Comments Off

on Kenya – Mombasa Travel Update