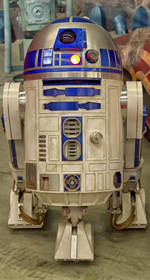 South Africa is a great destination for a fly/drive style holiday: From Cape Town and the Garden Route to driving around the Kruger National Park, the roads are generally in good condition, it is easy to get around, and the scenery can be spectacular.
There are a few things that visitors may find a little different from home. Some of these are unexpected pleasures such as petrol stations where you will have someone re-fuel your car, wash your windscreen and maybe check your oil, wheras others can be frustrating such as road signs that suddenly disappear or places that can be known by two or even three completely different names.
Given the erratic nature of the road signs, it is not uncommon that you may need to ask for directions at a petrol station or in a town, and if this happens you may be surprised to get the response "turn left at the next robot…". You have not suddenly been transported into a Star Wars film:  a 'robot' is the South African term for traffic lights.
I'm sure we were not the first or last visitors to be disappointed that we were not taking directions from R2D2…so these are not the droids you are looking for.
Our extensive guide to driving in south africa will give you a good idea of what to expect if you are visiting on a self-drive holiday, and covers issues such as driving licences, road conditions, what to do if you get stopped for speeding, and some general tips for having a safe and happy holiday.
Comments Off

on Driving In South Africa? These are not the droids you are looking for…