The annual wildebeest Great Migration is well and truly underway now.
The animals began their 1,800 mile round adventure back in January, on the Southern Serengeti Plains, when over half a million calves were born.  The last few months have seen the herds slowly and steadily progress northwards up through the vast Serengeti National Park.
Slightly ahead of previous years, however, the first of the animals have now reached the fresh green grass of the Masai Mara, and guests at the many camps and lodges here have witnessed first-hand the thundering of the hooves of millions of wildebeest and zebra, the snorting noises that carry across the still night air, and the inevitable blood spill, as the tired animals try to cross the Mara River, where crocodiles lie and wait anticipating a quick meal.  Those that do get across safely still have to contend with the lions and hyenas who sit on the sidelines looking for a vunerable animal to bring down for a tasty afternoon snack.
The herds are expected to stay around the Mara for the next few months, so this is an ideal time if you are thinking of travelling over to Kenya for a last-minute safari holiday to see the Great Migration, as some of the camps and lodges do still have limited availability.
Kenya Airways fly direct and overnight between London Heathrow and Nairobi, so you can conceivably leave work on a Friday, and be on your game vehicle on Saturday afternoon at the Mara River, witnessing one of the world's greatest wildlife events.
If you are looking for some R&R afterwards too, you can add on a few nights at one of the beach resorts along the beautiful Kenya coast, or take a short flight down to Zanzibar, off the mainland coast of Tanzania, and choose from a huge range of  beach hotels at price points to suit every budget.  You could even combine your time on the beach here with a few nights in the bustling and historic Stone Town, and soak up the atmosphere of the winding alley streets and spice bazaars.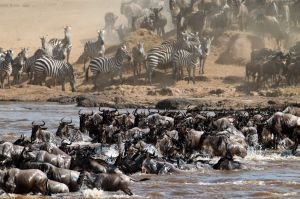 Comments Off

on Kenya's Part in the Great Migration has now Begun