We found out a few weeks ago that Travel Butlers had been nominated for the SATOA 'Best Tour Operator 'award.  SATOA are the industry body that promote travel to Africa and the  Indian Ocean, and this award was being run this year in recognition of companies who provide outstanding products and services to their clients.
The award ceremony was held last night at the impressive Zimbabwean Embassy in London's The Strand, and myself and Paul eagerly turned up on time, as we had found out on Friday that we had been shortlisted down to one of 5 nominees within this award category.
The event attracted many people from the travel industry, as the Best Tour Operator award was not the only category – there were also nominees for Best Accommodation, Best Retail Agent, Best Airline, Best Travel Journalist, Best Tourist Board, and Best Outstanding Contribution to Sustainable Tourism or Charity (CSR).
We waited with baited breath, each clutching our glass of wine, as the other awards were handed out.  To make us all sweat a bit, the Tour Operator award was the last one to be awarded.
Tesna Simonsen, the Chairman of SATOA, then announced it was finally time.
"And the award for the Best Tour Operator 2012 goes to …. TRAVEL BUTLERS!"
We were absolutely delighted, in fact, rephrase that, we are STILL delighted!  The award is now taking pride of place on our office bookshelf, and it really is such an honour to have been presented with this.  Thank you to everyone who voted for us.
We would just like to also congratulate and acknowledge the other category award winners too:
Best Accommodation – congratulations to Kapani Lodge
Best Retail Agent – congratulations to Different Planet Travel
Best Airline – congratulations to South African Airways
Best Travel Journalist – congratulations to Paul Hopkins
Best Tourist Board – congratulations to South Africa Tourism
Best Outstanding CSR – congratulations to Dereck and Beverly Joubert
And finally, congratulations to Tourism KwaZulu-Natal, who won a 'secret' award for their contribution over the past year to the industry.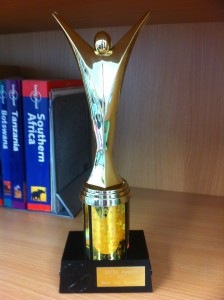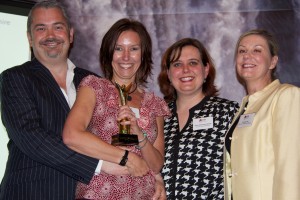 Comments Off

on And the SATOA Best Tour Operator Award 2012 goes to …