At the begining of this year, the peeps at Epacha Private Game Reserve in Namibia announced that 4 of their female black rhinos were expecting.
Pregnancy for a rhino is not easy, we women think we have it rough with 9 months – a rhino carries for about 18 months.
So it was a great relief, I am sure, that 2 of these females have each had a baby in the past month.  Mothers and babies are reported to be doing fine.
These 2 new bouncing additions take the number of black rhinos up to 16 at the Epacha Wildlife Sanctuary – this is a huge increase from the 7 (4 females and 3 males) that they started with back in 2004 when they became part of the Black Rhino Custodian Programme.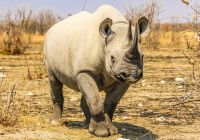 Namibia has one of the largest black rhino populations in the world, with a majority found in Etosha National Park. Although their numbers are increasing, the black rhino is still critically endangered. Therefore the Namibian Government, by way of its Ministry of Environment, Wildlife and Tourism, created the Black Rhino Custodian Programme.
The custodianship involves being selected by the Ministry to provide a safe and suitable haven outside the Etosha National Park for the conservation of this valuable animal. This reduces possible over-populating in Etosha, thus eliminating the competition for water and food, and the risk of fights between the animals which often results in death.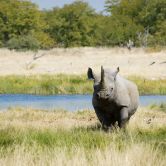 Finding a suitable area outside the park benefits both the Ministry as well as the landowner, as ownership of the rhino remains with the Government, but the responsibility of caring for the animal is transferred to the landowner. They commit themselves to regularly monitor the condition of the rhinos, not to interfere with the rhinos, and give regular feedback on their wellbeing to the Ministry.
The programme selected the Epacha Private Game Reserve to join them because of the size of the reserve – 21,000 hectares – plus it is properly fenced and has the right vegetation for the rhinos to live and breed.  The reserve manager ensures that the black rhinos are well looked after and monitored on a daily basis.
This successful increase in the black rhino numbers here could obviously attract potential poachers, and thus an anti-poaching unit has been put in place and security is kept at a maximum to safeguard the animals.
If you want to experience the work for yourself, you can include a stay at one of the lodges on the reserve – Epacha Game Lodge & Spa and Eagle Tented Lodge & Spa  – as part of your self-drive itinerary around Namibia.   Do please ask one of our friendly consultants for advice if you are interested – we don't bite at all!
Comments Off

on Baby Rhinos at Epacha