Making it easy to combine Cape Town with a safari in the Okavango Delta, Air Botswana are about to launch a new daily direct flight between Maun (MUB) and Cape Town (CPT) with effect from June 01 2012.
Maun serves as the gateway to the world famous Okavango Delta, which offers an opportunity for the safari holiday of a lifetime.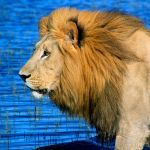 The Delta is home to a massive concentration of animals and birdlife. Thousands of elephant and buffalo roam the area, often in large herds, while several thousands hippos navigate their way through the existing channels, or create new ones.
There is an abundance of antelope, including the shy sitatunga, creeping through the thickets. Such a mass of herbivores encourages large numbers of predators – from big lion prides and noisy family packs of hyena, to the ever cunning crocodile. Cheetah and wild dog are a common sight on the larger grasslands while leopard are often seen stalking through the dense bush or lazing on a riverine tree.
The launch of this new service is perfectly timed to coincide with the peak of the tourism season, and will offer safari goers a smooth and hassle-free connection between the two iconic destinations.
Comments Off

on Air Botswana to launch new service between Cape Town and the Okavango Delta