Well, better late than never, I guess … I have just 3 more 'roving reports' to write and blog about from my trip to the Masai Mara in Kenya all those weeks ago (well, March, so not that long ago I guess).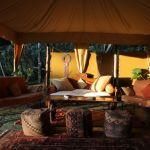 The 2nd camp I stayed at in the Mara was Elephant Pepper Camp. Run by a really personable Scottish guy called Calum (whose sister I found out lives in my home town of Weybridge, talk about small world) and his Kenyan wife Sophie, you are welcomed warmly and given a drink while you get your traditional 'camp briefing'.
The camp feels very spacious even though it is one of the smaller camps in the Mara, with just 7 tents. There is an open dining room / mess tent, with one long table where you all sit together at mealtimes, creating a 'homely' atmosphere; a separate lounge tent with a very well stocked bar cupboard; and that is about it ! No permanent structures like a gym or a swimming pool, as the camp gets dismantled every year to preserve the eco-system for a few months.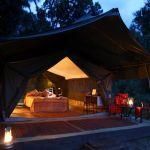 My tent was extremely comfortable – a verandah outside with a table and chairs, and a hammock strung up between 2 trees, and as I laid there contemplating all the hard work I was doing (this was an exhausting business trip …. ), all I could hear was the sound of the birds and absolutely nothing else.
Inside the tent, I had a large double bed, and an en-suite bathroom with a bucket shower, which gets filled up morning and night with hot water, so you do have to be a bit conservative with the hot water ! There is a separate 'flap' in the side of the bathroom where they also put through a jug of hot water so you can wash your face. The toilet was eco-friendly, not the most attractive of cysterns I will admit, but very functional and totally in keeping with the whole 'eco-friendliness' of the camp in general.
Foodwise, extremely good. Buffet style lunch, plated dinner, and we were all surprised by a bush breakfast in the morning.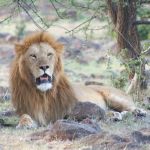 The camp is on a private conservancy, so for the game drives on this area, you can go off road but when you go into the Masai Mara Reserve itself, you do have to remain on the road networks. The game viewing was excellent – lion, elephant, giraffe, wildebeest, zebra, other antelope, and even rock dassies (so cute). My guide was Stanley, who has I think been with Elephant Pepper for years and years – he was what I would class as the strong silent type – not greatly chatty but he did still know his stuff about the wildlife.
I left the camp wishing I could stay longer, which is always a good sign. Although I was only there one night, I felt that I had been there for much longer. A testament, I think, to how welcome and at ease you are made to feel.
Comments Off

on Elephant Pepper Camp – My Review of My Recent Stay There