Cottars 1920's Safari Camp … I must admit, I was a bit apprehensive about staying here initially. Don't get me wrong, I had no fear that I wouldn't enjoy the obvious luxury of the tents and the camp, or the awesome game viewing of the Masai Mara … I was just a bit worried about the atmosphere. Would it be perhaps a bit pretentious ? After all, there are not many places where there are 'butlers who have been trained to provide guests with discreet, yet attentive service'.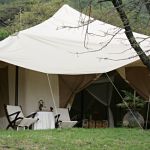 Anyway, I am delighted to report back that I had a wonderful time here. Can't fault it AT ALL.
My guide, Ken, was personable, knowledgeable and extremely friendly, and he made me feel at ease as soon as I met him. On the drive back to the camp, we just happened to come across a cheetah mum with 6 cubs under one tree, and then literally 5 minutes later, we spotted another 3 cheetahs under another tree. 10 cheetahs in 10 minutes ? Surely a pretty good record!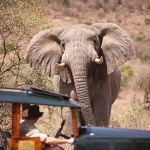 I arrived at the camp to find I was actually the only guest in the entire camp that night, so I was suddenly transported into a fantasy world of what it would be like to be Angelina Jolie or Madonna and be able to take over an entire safari camp. Anyway, the camp was too nice to remain in fantasy world for too long.
I was firstly shown into the main guest area, a huge tented 'mess room' with a dining area at one end, and comfy chairs and sofas around the rest. A real 'Out of Africa' feel prevailed, and truly finished off when the butler, complete with fez, approached to see whether I would like a cup of tea or a gin & tonic. There was absolutely nothing, however, pretentious about this – I just felt as if I was being welcomed and that nothing would be too much trouble.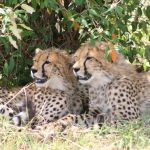 I arrived in time for lunch, so after I was shown to my room (more about that later), I then came back to the main area. A 2 course lunch followed – the food was delicious and beautifully presented, and of the quality I would expect from a top London restaurant. After lunch, I treated myself to having a massage – the first half hour was complimentary as part of the rate, the 2nd half hour I paid for. And it was one of the best massages I have ever ever had.
My room was ENORMOUS – I had one of the family tents, and I swear I nearly got lost in it. And it came complete with my own private Masai guide, who stood guard outside my room as soon as it got dark until I left in the morning. AND there was a proper shower (I had by this stage been used to safari camp bucket style showers), which was such a treat !!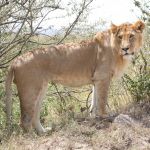 My afternoon activity was a bush walk, followed by a scenic sundowner on a hill overlooking the reserve (more G&T and homemade crisps this time), and then we returned to a lovely dinner again, with drinks afterwards around the open fire.
My morning drive was exciting in that I 'crossed' over the border into Tanzania for about 10 minutes – so I can say on this trip, I visited the Serengeti AS WELL AS the Masai Mara ! Cottars is right on the far edge of the Mara, on its own private concession, and it literally borders right onto Tanzania – and oddly enough, there are not border posts in the bush here ! Oh yes, and we saw elephant, giraffe, lion, and antelope too !!
Cottars was simply awesome. If you have the budget, please please please go and experience it for yourself. You will not be disappointed at all.
Comments Off

on Cottars – Quite Wonderful