The wildebeest have gathered. The calves have been born. It is about to start ….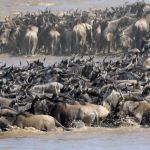 Yes, we are talking about the famous Great Migration, which every year sees over 1.5 million wildebeest, 200,000 zebras and 350,000 gazelles follow the rains en mass from the Serengeti Plains in Tanzania up to Kenya's Masai (also spelled Maasai) Mara in search of greener grazing land, before returning back south again in November … a total journey of about 1,800 miles. It is one of nature's most phenominal events, and also one of the most amazing safari experiences that Africa as a whole has to offer.
The animals begin their arduous trek about now, heading in a clockwise direction towards the long grass plains and woodlands of the Seregeti's Western Corridor. May is also the time when the wildebeest mate, and competition is fierce between the males as they rut and battle to win females and territories.
Tho quite why they don't just all call out for a take away pizza, I don't really understand. Would save a lot of walking …
Comments Off

on Get Ready for the Greatest Show on Earth ….