My first ever trip to the famous Masai Mara. To say I was excited was a bit of an understatement.
From Nairobi, I caught the Safarilink flight to the Mara. Upon landing, I was approached my guide from Porini Lion Camp, who was dressed in traditional Masai garb – and welcomed warmly to the Mara.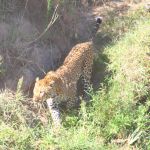 We set off in the open Land Rover, and within 5 minutes we came across 2 lions snoozing under a tree. We left them, continued on our way … and saw a leopard running fast through the bush, hotly pursued by a lioness. So within 10 minutes, the tally was already 3 lion and one leopard. We followed the leopard for a bit, then went back to find out why he was running away – and realised that he had been chased off his fresh kill (of an impala), and there was the original lioness and her 3 sisters, tussling with the carcass as they each tried to take it for their own. Lion count now 6. And 15 minutes into my first Mara game drive. To say I was impressed was another understatement.
And it just got better and better. Wildlife everywhere – more lion, elephant, giraffe, buffalo, wildebeest, zebra, topis (a form of antelope), impala … the list really did go on and on.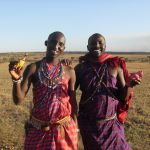 Porini Lion Camp is located just outside the Masai Mara Reserve, in the 20,000 acre Olare Orok Conservancy. I arrived at Porini Lion Camp, and settled into my tent – extremely spacious, a comfortable double and single bed, an en-suite bathroom with flushing WC and a bucket shower. Everyone at the camp was extremely friendly, and I was already starting to wish I had longer here than just one night (the downside of a business trip !).
The food was extremely good, no complaints there at all.
My 2 guides were great – Jackson and Steve – and I learnt a lot from them in my game drives, including how to age a lion (by the colour of its nose apparently).
All in all, yes, I would highly recommend Porini Lion Camp.
Comments Off

on My Stay at Porini Lion Camp