Destination – the Kenyan Coast. The northern part. Namely – Lamu Archipelago. And Kipungani.
I landed at Manda airstrip, on a Safarilink 2 hour flight from Wilson, Nairobi. The grass airstrip was a bit bumpy, but not too bad.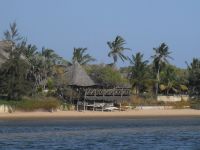 Met by Kipungani's representative, and escorted down to the waiting boat, which would take me on the 30 minute ride to Kipungani.
When you approach Kipungani, all you can think is 'wow'. It is everything you imagine a beach destination in Africa to be. It really IS white sandy beaches, palm trees, clear aqua blue / green water … thatched bandas on the beach, thatched main lodge area, hammocks and swinging chairs, dhow boats lying idle in the water … seriously, what is there not to be happy about !!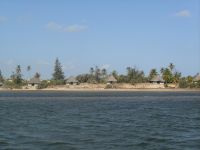 My banda was made of thatch, and you start with a large open verandah, with a swing bed / hammock and a small sofa and 2 comfy chairs. You enter, to be confronted by a mosquito net draped huge bed and an additional day bed, ideal for anyone with families or for me, space to throw some more of my stuff.
The bathroom was at the back of the banda, with a large walk in shower (with hot water), a sink, and a separate toilet.
The banda is open ie there are no doors you can lock, or windows you can close – but did this worry me ? No, not at all.
For some odd reason, because it is so laid back here (sandals are a big no no – you go everywhere barefoot – so you really are living the idyllic beach lifestyle), the issue of security didn't even cross my mind – the beach is deserted, with nobody for miles, they do have people around the whole time, and I felt completely safe, even though I was on my own. Yes, I locked everything away in my bag when I left the banda, but then again, I do that even in a hotel in London !!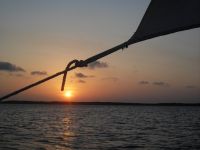 I went on a sunset dhow cruise, and as the sun went down, out came the cool box and the gin and tonic, and the 3 guys manning the dhow started to sing … it was magical.
The food that evening was delicious, there was only myself and one other couple in the entire lodge, and when this happens, the staff will endeavour to ensure that you have a private dining experience – my dining was on the deck, the other couple were out by the pool. Breakfast was equally as good.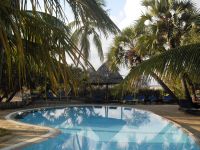 Talking of the pool – lovely area, but the warm ocean is literally a few seconds walk away, so you have the best of both worlds.
Trips can be arranged – I did a trip around Lamu Town the next morning (an experience in itself, but please, if you are female, do show respect and cover up as this is a Muslim town – skimpy shorts and t-shirts are not really the 'done' thing), but other trips are snorkelling and diving … or you can just take yourself off up the deserted beach and walk for miles.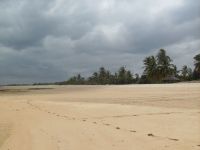 The thing again that amazed me was just the overall friendliness of the staff … everyone said hello to you, and it was a genuine 'hello', not forced at all. The service was good, quick and efficient. And you really felt 'at home' immediately.
I only stayed one night, and I was gutted to leave. 3 or 4 nights here would have seen me crying on departure, I am sure.
Truly fantastic. 15 out of 10. No, that is not enough. I can't praise it highly enough. If you are reading this review because you are not sure whether to book here or not … have no worries. Book it immediately !!!!!
Comments Off

on Kipungani – Beach Heaven !!