Having just returned from a 2 week trip to Kenya, this is the first report about the 10 places I stayed at.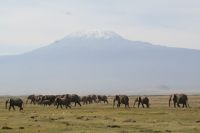 Porini Amboseli Camp in the Selenkay Conservancy – what a fabulous place ! I was picked up from the Amboseli airstrip by my 2 guides, Harry and Jonah, and immediately offered a coffee! They took me on a game drive through the Amboseli National Park to begin with, and within 5 minutes I had the 'elephants in front of Mount Kilimanjaro' picture safely snapped – so what more can I say !!
Once you leave the Park, it is a 10 mile drive through Masai land to the actual conservancy, but it is an interesting drive, as you get to pass the people living their daily lives, and herding cows and sheep along.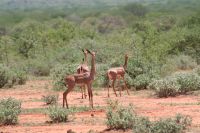 Once in the conservancy, the vegetation changes to more trees and bushes, so again, within just a few seconds of arriving, I saw giraffe, zebra, antelope … including the gerenuk, this strange looking long necked antelope that thinks it is part impala / part giraffe as it browses from trees by standing up on its hind legs to reach the higher branches.
The camp is so friendly, everyone comes up and introduces themselves, and it has a lovely atmosphere. The tents are great – not OTT luxurious at all, but extremely clean, comfortable (a double bed and a single bed, great for me as I was on my own so I had a lot of room to spread out my stuff although it was only for one night !), and a large en-suite bathroom with flushing toilet, sink and a shower (bucket style, so you get 20 litres – if you are unsure, ask the manager about the best way to be efficient in them – basically you don't have time to stand and enjoy, you get in, wash, and get out before the water runs out !).
Food was great, a total treat. I didn't eat the banoffee pie at lunch, but my 3 fellow guests absolutely raved about it !
I did a walk to the Masai village in the afternoon, which was extremely informative and interesting, and you are under absolutely NO obligation at all to part with any money, which is lovely. We were escorted into the village by 5 'warriors', who chanted as we walked behind them, then the village leader, Tom, introduced us to everyone, including the children. We went inside a typical mud hut, we watched them make fire from sticks, play games, and sing – and the warriors displayed their strength by showing us their jumping and spear throwing skills.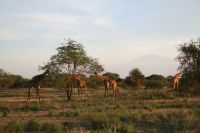 After we left the village, we went on a game drive through the conservancy and stopped for a scenic sundowner, then on the way back, we were all surprised by stopping in the bush for a lovely bush dinner under the stars and lit by lanterns.
In the morning, I did an hour bush walk with Jonah, which ended in a bush breakfast out in the wild.
All in all, would I recommend this camp ? Without a shadow of doubt. Excellent service, comfortable accommodation, superb game viewing … all in all, a real 'safari / bush' experience. 10 out of 10.
Comments Off

on Porini Amboseli Camp – My Visit There